Jesus Will Come - The Coming Of Our Lord Jesus Christ To Earth
This website is about the coming of our Lord Jesus Christ. Many people ask When Will Jesus Come back to earth for the rapture. The answer is very simple, no one know, not even the Son of God knows, But only God knows the exact time and date.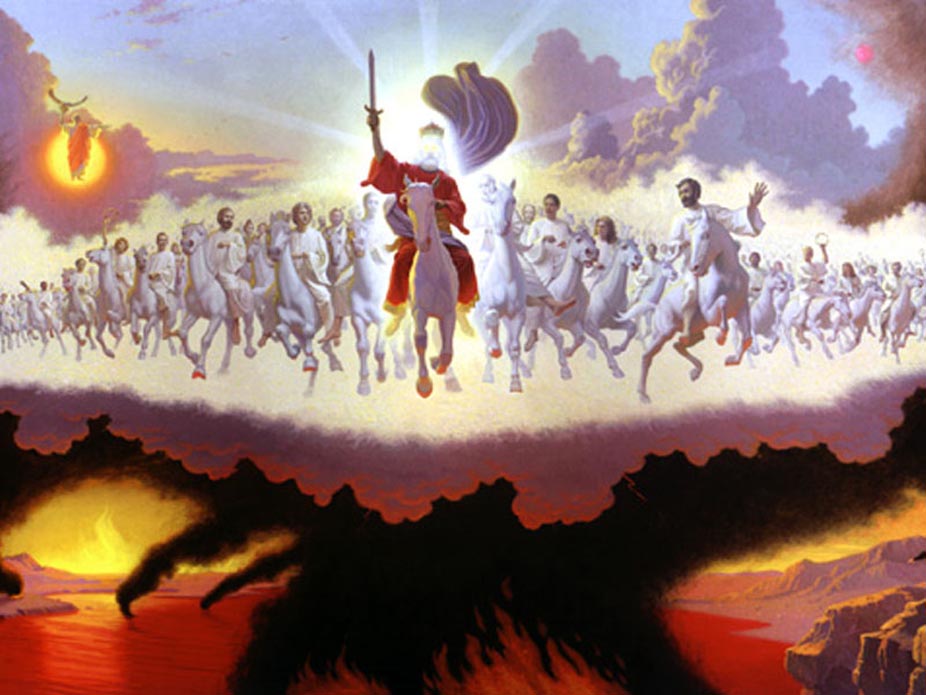 When Will Jesus Come?
Don't let anyone fool you. If someone tells you they know when Jesus Will Come, they are lying to you. Not even Jesus himself knows when he is coming back. The only one who knows the exact moment is God the father. Dont fall for false words. Many people may tell you they know, or they may say God talks to them and God has told them.. Don't believe, but you don't have to take my word for it. Look in your bible on Matthew 24:36 says: No one knows about that day or hour, not even the angels in heaven, nor the Son, but only the Father.
Why JesusWillCome.com?
You might be wondering, why create a website about the coming of Jesus? Well, the answer is simple. I believe the Lord called upon me to create this website to spread the word about the coming of Jesus. I wanted to give something back to Jesus. He has blessed me so much and I wanted to so something for him. But I am not a talented person. I am very shy. I admire those people who go out and preach the word to other strangers. I think it must take a lot of courage to do that. My mom once told me that God uses each individual according to their gifts, or their skills. I dont have those skills. My mother, she has the skill of just going to strangers and start a conversation. I would be proud of my mother when she would come home and tell me her experience when she would go out and when she come home, she would tell me how many people she had save. She called it 'Soul Winning' I admire her for that and i am very proud of her for that. I could not do that. But the Lord has blessed me with wisdom. Computer wisdom, that is. I started getting curious about how an internet web page works, soon I learn all the skills and bought the domain Jesuswillcome.com - originally, i wanted to get jesuswillcome.org, but it was already taken. So if you are wondering why jesuswillcome.com that is the reason. I hope you find good inspirational content on this website. if not, i would encorage you to leave your comments or perhaps write an article, you can write your own article in the 'Post New Topic' section above.
---
by John
Posted on Sat Jun 24, 2017
---
I believe Jesus will come in my life. I lost my son John. I missed him so much i love u papa
Read More
---
by Walter
Posted on Thu Jun 22, 2017
---
Whet i need is to know the will of Jesus Christ for my life ok so pleases pray that for me to Christ for me ok
Read More
---
by Ann
Posted on Thu Jun 22, 2017
---
Pray for my husband. He use to have a relationship with the Lord and he drifted away. He's so caught up in the world right now that it is scary. Pray warriors just plead the blood of Jesus over his life.
Read More
---
by Katy
Posted on Tue Jun 20, 2017
---
Porfas alguien que me diga que capitulo y versiculo
Read More
---
by The
Posted on Mon Jun 19, 2017
---
Unfortunately even God certainly has no control at all over a woman's behavior these days which makes it very hard for many of us good men looking to find a good wife and have a family since this is without a doubt a very difficult time finding love these days since it does really take two to tango now.
Read More
---
by Walter
Posted on Thu Jun 15, 2017
---
I gave my life to Christ Jesus back in 2002 but have not been given the HOLY SPIRIT so how do i get Him
Read More
---
by chris
Posted on Tue Jun 13, 2017
---
God help me find a pretty smart wife soon
Read More
---
by Lovely
Posted on Mon Jun 12, 2017
---
Pray for me to get a job. I had an interview and have yet to hear back. Was call back a second time. When asked the salary range should I have said "what are you offering?" I have been laid-off since 2011 and depleted savings, investments, retirements funds and have been definitely seeking employment. This has been the hardest ever in getting a job. Could it be technology, age, etc. I don't know.
Read More
---
by Walter
Posted on Mon Jun 12, 2017
---
Can you pray to Christ Jesus talk to social security to send me another pay card for i lost the one I had okay please help me
Read More
---
by Walter
Posted on Fri Jun 09, 2017
---
Ask Jesus the CHRIST to give my His Spirit so we can have feloship in God's word
Read More
---
by Arun
Posted on Tue Sep 29, 2015
---
I'm Arun, 26 year old male from India, Asia. I'm trying to do everything good for the sake of people & which I don't have a personal gain. Even though, I'm just trying to do so, nobody recognizes them & understands me. I don't have much friends. Even my parents are saying not to be involved in something which you don't have a personal gain. But I just really don't know why I'm still continue doing what I'm doing.

Even though nobody understands me and all are blaming, insulting or harassing me; I have not yet started any bad habits such as smoking, drinking, drugs, illegal #love- etc. I personally believe that everyone should give some contribution towards society and mankind. Because of my thinking, I have enemies everywhere.

I'm even suspecting that there is no God, since I'm unable to experience him or his support. I would like to become an IAS Officer (Indian Administration Service) so that I will have enough power to help the needy and to restore the justice at-least to a certain limit under my jurisdiction. And I have started the coaching for that.

I just don't really need any millions of money or luxuries, but I need to reach a good and powerful position in my life to assist people. I almost lost my faith in any God (any religion). And basically, I'm not a Christian, but a Hindu. I'm not well aware what Jesus can do. I'm just giving a try. Somebody help me to reach my goal & help me to get recognized and respected by people, if I do something good. Anybody can pray for me?
Read More
---
by Mark
Posted on Fri Jun 09, 2017
---
Dear Arun, Many people have been through bad times as all these people have in these posts.I have had great pain and loss over the past 5 years. I have lost my mother, my brother, my daughters boy friend that was like a son to me, both of my wife's parents. I was diagnosed with stage 4 cancer and have lost my job and about to lose another due to car sales. God allows you to go through trials to become more like his Son, Jesus. God bless, I pray for us all.
Read More
---
by Walter
Posted on Thu Jun 08, 2017
---
When you turn your back on Christ Jesus He does not here your prayers not more
Read More
---
by Javier
Posted on Mon Oct 27, 2014
---
I had a dream about Jesus sitting next to my right side on the roof of the house I was living in.
He looked at me and smiled! Then I woke up. It was like meeting a friend you find who has so much love that I cried. Was a wonderful dream! 8'')
Read More
---
by Ashley
Posted on Fri Mar 11, 2016
---
I dreamt I was riding in a car on a winding black paved road. I saw my cousin(who is deceased). I yelled for the driver to stop. They wouldn't. My cousin waved her arm as if she was telling me to keep going. I was so sad. Then a huge flood came. I was drowning. I was terrified. Then I felt arms around me holding me like a baby and I hear a voice as clear as day telling me to breathe. And I thought the words I can't. I heard the voice tell me to trust him. And he said again, breathe. So I did. And I was pulled from the water. I saw His face. It was Jesus and I held him tight as He told me everything is going to be alright.His mouth never moved. I will never forget the emotions I felt while having this dream. I woke up and cried. I still get teary eyed and chills when I think about and talk about it. I will cherish it forever. He is Alive. He is coming back for us.
Read More
---
by princess
Posted on Wed Jun 07, 2017
---
because I've seen Jesus too, he was wearing an orange robe with a white crown decorated with orange bits, he told me something but I don't remember what he was saying, still in a dream I was going around telling people that I saw Jesus they did not believe me, I was so sad that no one was believing me. but I'm still very happy and I believe He is coming again. And I'm asking for strength to do his will everyday
Read More
---
by Daniel
Posted on Tue Jun 06, 2017
---
I often have very different dreams and I have revisited dreams , I don't remember much of the dream but what I do is very clear I was walking down a street when a man jumped out of a van and shot me in the head I remember everything fading and just seein black for a few seconds but I was conscious of it being a dream at this point after the blackness for a few second there was this bright like blinding light but it was so beautiful then Jesus appeared I front of me in a white garm with a halo above his head and held out his hand helping me up onto my feet then we started floating trough up into the sky but the sky was Like I'd never seen it before if I had to describe it I'd say said it was heavenly but before we reached the top I woke up .
Read More
---
by Umah
Posted on Thu Jun 01, 2017
---
I need God intervention in my business, thank u man of God for this beautiful quote.
Read More
---
by Billie
Posted on Wed May 31, 2017
---
In my dream I saw my deceased grandfather, who when alived loved me dearly and though he passed when I was 5 or 6 (very vague as to when he passed) he treated me most kind in a time in my life my family including grandma made me feel like an outsider for many years due to this great dislike of whom my father was. My youngest brother and I shared a father different from my older siblings. For this we were abused and treated differently by our grandmother, older sisters and brother. My mother was abusive and left us many days of the week from home to home. I knew she loved us, but had a struggle of her own she could not face. Before I continue to my dream, I was going through a great struggle in my mind and heart at the age of 22. I had left an abusive relationship, in which I had a child out of wedlock. Only to get into a relationship with an man whom introduced me to drugs and a party life. I left my son most days of the week with my family. I was attending Sunday church during this time, and I knew that in my heart I had gone astray in my path. It was a battle within myself to find the light again. One night, I saw my grandfather in my dreams, I cried for I had such sorrow from life in my heart and I feel because he was the one person that had made me feel safe and loved most in my life he appeared to me. Then beside him was a emenating light surrounding a figure. As It came towards me, he was dressed in a beautiful red gown, thorn crown, and just an overwhelming aura, Though he did not say, I knew who he was. He held out his arm and embraced me. As he held me he said , "Everything will be ok." I never felt so much in my heart, I cried in joy. I still till this day remember waking up from my sleep in tears. That day I decided that I was going to stop the partying and drugs, be the best mom and person that God had planned for me to be. I decided to be reborn and was baptized a few days after. I attended church 2-3 times a week, and tried to get my boyfriend to do the same. Although I was not able to help save him from the sins that held him, I was able to uplift myself and find a better life for my son and I. I am now married to an amazing man we have a child together and another on the way. Life is far from perfection, but it's filled with the love that God has intended us for. God is Good!
Read More
---
by william
Posted on Wed Sep 28, 2016
---
Dear heavenly Father...
We humbly come before you and ask for strength and direction. We come to you broken in spirit, many of us broken physically as well. We ask for healing Father, we ask for a blessing of healing from the crowns of our heads to the soles of our feet. We thank you for your provision Father, as the name Adonai carries that of the good shepard, providing and protecting his flock. YHWH, you truly are sovereign and are in control of all things. We can trust that you allow anything that comes into our lives as something you will use to benefit us and bring glory to your name according to your purpose.Father, I ask in your holy name to bless these people on this message board, each individual here, your very children, bless each and everyone with your grace and mercy and loving kindness. Every last one of these men and women have come here seeking grace, forgiveness and guidance from your Holy Spirit. Each one having individual, personal issues and problems in which they are seeking your loving intervention. The very fact each person here has sought your word Lord, is a clear indication they have been drawn by you, drawn to seek truth and answers. You say to seek and you shall find, and so they seek and will find...you say ask and it will be given, and so they ask and can be confident it will be given...you say to knock and it will be opened, and each one of these brothers and sisters are knocking, and I believe it will be opened to them, their hearts and souls opened to receiving your awesome love and presence...Father, we thank you for sending your son to die in our place for our sins, for raising him from the dead and for drawing us all to yourself in Christ, that as we live our lives in Him, and Him in us, we can accomplish your will and bring glory to your name. My prayer is for all who are here seeking your Truth, that you will answer each individual prayer and need in a profound way as to bring an obvious revelation of your love and feeling of comfort to us all, wrapping us in your loving arms and strengthening our faith and desire and need for you...I pray this in Jesus' majestic name...amen
Read More
---
by an
Posted on Tue May 09, 2017
---
my husband left me for a much younger woman after 40 years of marriage. he brought me to fl under the guise of retirement and abandoned me. he returned home to my childrens open arms and they have abandoned me too. out of sight, out of mind. i feel helpless and useless. please help me Lord help me. i have been sitting and looking at the walls for three years. he filed another law suit to get what little money i have left. had a lousy attorney now i need another one. help me, help me, help me.
Read More
---
by Linda
Posted on Fri May 05, 2017
---
Today is May 4, 2017. Dear God in the name of Jesus I need a better paying job. At 60 I have fallen on very hard times. I am essentially broke, stressed,
depressed, and tired. Tired of trying my best and failing. Went back to college at 52 got my bachelor's in Psychology at 56, got more rejections than I did before getting the degree. Work pt. @ $9.00 p.h. average take home pay $91.00 wkly. Self-employed
hairstylis avg. pay, around $250.00 wkly. What's wrong with me lord? I feel like giving up. Applied for food stamps.
Regrettably. Does prayer really work to
change financial situations for the better or is financial success for some and not others subjective.God's favors are not equal. A wealthy bishop and his wife told me that. That helps. Not!!!!
Still trying to keep my faith and hope for the best, knowing I will always be a loser on earth but a winner "if" I make it into heaven. A canondrun.
Discouraged but grateful for the little
things.
Read More
---
by mitchell
Posted on Tue Mar 21, 2017
---
dear Lord; make me fit to do your will. Nothing less than doing your will; not my will but yours!
please Lord.

Thank You
Read More
---
by Steve
Posted on Wed Jan 25, 2017
---
Please God! Listen to my pleas for a worthwhile job. I've been unemployed for too many years through no fault of my own. Mounting debt. Depletion of retirement savings. Severe depression. All I ever wanted was to be a role model for my kids and to have my wife be proud of me. I can't help but think they feel I'm a failure. I'm a good person, I'm educated, and I've worked hard my whole life but I'll turn 62 soon and my prospects are bleak. Please help me to understand Your Plan. I am so desperate. I'm listening God! Thank you..
Read More
---
by jorge
Posted on Thu Apr 14, 2011
---
cuando habla el señor jesus de las bie aventuranzas lo hace a las multitudes de su epoca, pero hoy dia seguimos igual estamos en tinieblas(ignorancia)acerca de las verdades eternas,que nuestra sociedad actual sigue ignorando;por eso nuestro mundo vive en caos.porque han dedicado su vida a las cosas materiales ,esta de acuerdo nuestra alma con nuestra naturaleza carnal ,pero nos olvidamos del espiritu quees el que verdaderamente nos da vida.
Read More
---