Jesus Will Come - The Coming Of Our Lord Jesus Christ To Earth
This website is about the coming of our Lord Jesus Christ. Many people ask When Will Jesus Come back to earth for the rapture. The answer is very simple, no one know, not even the Son of God knows, But only God knows the exact time and date.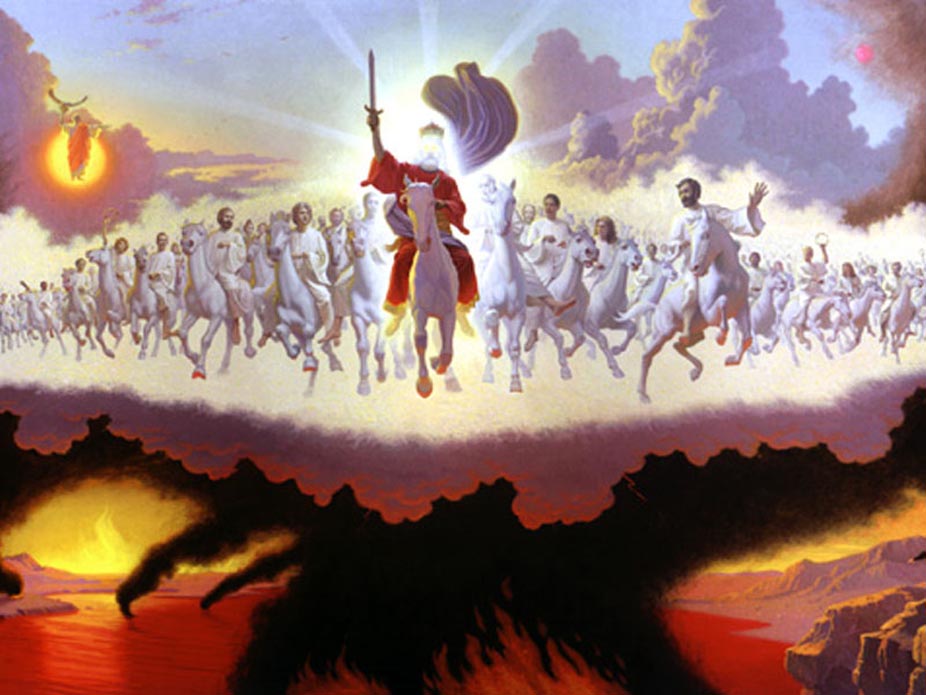 When Will Jesus Come?
Don't let anyone fool you. If someone tells you they know when Jesus Will Come, they are lying to you. Not even Jesus himself knows when he is coming back. The only one who knows the exact moment is God the father. Dont fall for false words. Many people may tell you they know, or they may say God talks to them and God has told them.. Don't believe, but you don't have to take my word for it. Look in your bible on Matthew 24:36 says: No one knows about that day or hour, not even the angels in heaven, nor the Son, but only the Father.
Why JesusWillCome.com?
You might be wondering, why create a website about the coming of Jesus? Well, the answer is simple. I believe the Lord called upon me to create this website to spread the word about the coming of Jesus. I wanted to give something back to Jesus. He has blessed me so much and I wanted to so something for him. But I am not a talented person. I am very shy. I admire those people who go out and preach the word to other strangers. I think it must take a lot of courage to do that. My mom once told me that God uses each individual according to their gifts, or their skills. I dont have those skills. My mother, she has the skill of just going to strangers and start a conversation. I would be proud of my mother when she would come home and tell me her experience when she would go out and when she come home, she would tell me how many people she had save. She called it 'Soul Winning' I admire her for that and i am very proud of her for that. I could not do that. But the Lord has blessed me with wisdom. Computer wisdom, that is. I started getting curious about how an internet web page works, soon I learn all the skills and bought the domain Jesuswillcome.com - originally, i wanted to get jesuswillcome.org, but it was already taken. So if you are wondering why jesuswillcome.com that is the reason. I hope you find good inspirational content on this website. if not, i would encorage you to leave your comments or perhaps write an article, you can write your own article in the 'Post New Topic' section above.
---
by lorraine
Posted on Sat Jul 21, 2018
---
please jesus, help me my husband is very ill and i care for him, but he also has severe mental health issues and he is always angry with me i know it isn't his fault, but i am also unwell myself i am so exhausted i have noone i can turn tomy family are not supportive at all and my husband hasn't seen or spoken to his family for years i don't like where we are livingour neighbours are not very nice peoplei feel like everything is becoming too much for mei used to be so strong but lately i keep cryingi feel so lost and aloneplease help me jesus
Read More
---
by william
Posted on Wed Sep 28, 2016
---
Dear heavenly Father...
We humbly come before you and ask for strength and direction. We come to you broken in spirit, many of us broken physically as well. We ask for healing Father, we ask for a blessing of healing from the crowns of our heads to the soles of our feet. We thank you for your provision Father, as the name Adonai carries that of the good shepard, providing and protecting his flock. YHWH, you truly are sovereign and are in control of all things. We can trust that you allow anything that comes into our lives as something you will use to benefit us and bring glory to your name according to your purpose.Father, I ask in your holy name to bless these people on this message board, each individual here, your very children, bless each and everyone with your grace and mercy and loving kindness. Every last one of these men and women have come here seeking grace, forgiveness and guidance from your Holy Spirit. Each one having individual, personal issues and problems in which they are seeking your loving intervention. The very fact each person here has sought your word Lord, is a clear indication they have been drawn by you, drawn to seek truth and answers. You say to seek and you shall find, and so they seek and will find...you say ask and it will be given, and so they ask and can be confident it will be given...you say to knock and it will be opened, and each one of these brothers and sisters are knocking, and I believe it will be opened to them, their hearts and souls opened to receiving your awesome love and presence...Father, we thank you for sending your son to die in our place for our sins, for raising him from the dead and for drawing us all to yourself in Christ, that as we live our lives in Him, and Him in us, we can accomplish your will and bring glory to your name. My prayer is for all who are here seeking your Truth, that you will answer each individual prayer and need in a profound way as to bring an obvious revelation of your love and feeling of comfort to us all, wrapping us in your loving arms and strengthening our faith and desire and need for you...I pray this in Jesus' majestic name...amen
Read More
---
by simon
Posted on Tue Jul 17, 2018
---
when i was younger i dreamed i was jesus being crucified ive not told many people i thin they would not believe me
what does it meen

Read More
---
by shannon
Posted on Tue Jul 17, 2018
---
as i sit here my heart my soul and body hurt ! i have had multiple surgeries on my foot with bone fusions, bone grafts, 5 screws plates and nerve surgeries due to nerve entrapment from all the other surgeries! at the bone graft harvest site the bone died ! now tests are showing chronic osteomyelitis in my tibia i'm in pain ! my surgeon says he has to cut the dead bone out then replace it with new bone and marrow stem cell and test the dead bone then depending on the infection start 10 to 14 hour days of iv antibiotics well he never called to schedule it ! so i scheduled a appointment to see a different doctor! tomorrow was supposed to be my appointment! they just called and canceled until august 1st ! i am in deep fear of losing my leg ! i feel as though i'm giving up ! i'm broken ! i've been out of work almost 2 years due to all of this ! i've sold my car to pay bills ! i've sold items left to me from my mother after she passed to pay bills ! my body mind and soul feel as though i have no fight left ! financially i have nothing left ! mentally nothing left ! physically nothing left ! i'm broken lord and need your help !
Read More
---
by bob
Posted on Sun Jul 15, 2018
---
been going through a very difficult time going on 7 years i'm not sure where jesus is in all this tribulation
Read More
---
by catherine
Posted on Fri Jul 13, 2018
---
please may jesus speak to mea
Read More
---
by mimi
Posted on Mon Apr 19, 2010
---
i had a dream jesus was descending from the heavens ... he was surrounded by white light, the clouds were white, and his garb was white with a purple sash... he did not speak to me, though i felt a peacefulness within ... i was outside watching him, wondering if he could see me and i was just in total awe ... any idea what the dream means?
Read More
---
by maryanne
Posted on Mon Jul 09, 2018
---
thank you for your hopeful words!
Read More
---
by copeland,
Posted on Mon Jul 09, 2018
---
i am seeking as a travel agent, child care worker or part time work from home if anyone know of any available jobs i am available
Read More
---
by patricia
Posted on Mon May 28, 2018
---
i am a well educated widow of retirement age my husband committed suicide and i am left homeless and without anything except my job training as an educator i am in great financial need and need a permanent solution to take care of myself i am a christian and have had many prayers answered but my prayers for a home and for restorations money and a permanent work assignment go unanswered is there anyone to help me in jesus' name
Read More
---
by freeman
Posted on Sat Jul 07, 2018
---
i'm in the same boat my self, it seems as though the harder i try the worse it gets, and then i read in the bible we can't change one hair on our head but god can' take it to the lord and leave it there! god is a faith god with out faith we can not please him! freeman
Read More
---
by freeman
Posted on Sat Jul 07, 2018
---
some times i feel like i am the only one living in this sin filled earth' when you get old no body wants to have any thing to do with you! freeman
Read More
---
by bill
Posted on Thu Jul 05, 2018
---
i am lost and have been since march 11when i lost my baby girl15y2mo18daysi have no desire to livelife means nothing nowi have prayed and ask for gods help and forgivenessbut i don't feel any responsewhat is wrong with mei do believei can't go on like this much longer oh god i miss my annabelle so muchplease help
Read More
---
by ismael gonzalez
Posted on Sun Jul 12, 2009
---
muchas gracias jesus, en ti confio
Read More
---
by mark
Posted on Wed Jul 04, 2018
---
they overwhelmed me to the point i want to die
Read More
---
by norman
Posted on Thu May 24, 2018
---
financial services

are you looking for financial assistance? do you need an urgent loan to pay your bills or debts whatever reason you may need the loan, just contact us today via email: @ gmailcom
be regads
Read More
---
by mark
Posted on Wed Jul 04, 2018
---
please help i have debt
Read More
---
by Paul
Posted on Tue Dec 26, 2017
---
I hear many doubting that their prayers will be answered. That God doesn't hear their prayers. Sit down and get all thoughts out of your mind by closing your eyes
and not thinking so much. You can't solve the problem of thinking too much with more thinking. Quiet down and listen to the still voice within you. Go out and have some compassion for others. This is what will make you happy. You may say I don't even have compassion for myself, how can I have compassion for others.
You will have compassion for yourself by having compassion for others. It's just like learning to swim. You just jump in and do it.
Read More
---
by The
Posted on Mon Jun 19, 2017
---
Unfortunately even God certainly has no control at all over a woman's behavior these days which makes it very hard for many of us good men looking to find a good wife and have a family since this is without a doubt a very difficult time finding love these days since it does really take two to tango now.
Read More
---
by cp
Posted on Fri Jun 29, 2018
---
i dreamt god was standing in front of me with a white garment on and his arms was stretched out to me then i almost touched his hand and he went back into the clouds
Read More
---
by kk
Posted on Tue Apr 13, 2010
---
i had a dream last night and i seen jesus sitting at a picnic table just sitting there. his back was facing me and i felt at peace...but i'm not sure what he is telling me.

can anyone tell me what this means?
Read More
---
by cp
Posted on Fri Jun 29, 2018
---
pray and ask jesus to reveal to you what it meant
Read More
---
by Ryan
Posted on Mon Mar 20, 2017
---
Jesus please save my marriage
Read More
---
by peter
Posted on Fri Jun 29, 2018
---
dear ryan, love your wife say hello love try renew your love for each other
Read More
---
by eric
Posted on Fri Jun 29, 2018
---
i had a dream this morning about the second coming of jesus christ, i saw people moving up to jesus but i couldn't make it i was terrify please what does this mean
i don't understand
Read More
---