by william
Posted on Wed Sep 28, 2016
---
Dear heavenly Father...
We humbly come before you and ask for strength and direction. We come to you broken in spirit, many of us broken physically as well. We ask for healing Father, we ask for a blessing of healing from the crowns of our heads to the soles of our feet. We thank you for your provision Father, as the name Adonai carries that of the good shepard, providing and protecting his flock. YHWH, you truly are sovereign and are in control of all things. We can trust that you allow anything that comes into our lives as something you will use to benefit us and bring glory to your name according to your purpose.Father, I ask in your holy name to bless these people on this message board, each individual here, your very children, bless each and everyone with your grace and mercy and loving kindness. Every last one of these men and women have come here seeking grace, forgiveness and guidance from your Holy Spirit. Each one having individual, personal issues and problems in which they are seeking your loving intervention. The very fact each person here has sought your word Lord, is a clear indication they have been drawn by you, drawn to seek truth and answers. You say to seek and you shall find, and so they seek and will find...you say ask and it will be given, and so they ask and can be confident it will be given...you say to knock and it will be opened, and each one of these brothers and sisters are knocking, and I believe it will be opened to them, their hearts and souls opened to receiving your awesome love and presence...Father, we thank you for sending your son to die in our place for our sins, for raising him from the dead and for drawing us all to yourself in Christ, that as we live our lives in Him, and Him in us, we can accomplish your will and bring glory to your name. My prayer is for all who are here seeking your Truth, that you will answer each individual prayer and need in a profound way as to bring an obvious revelation of your love and feeling of comfort to us all, wrapping us in your loving arms and strengthening our faith and desire and need for you...I pray this in Jesus' majestic name...amen
Read More
---
by Kevin
Posted on Wed Sep 28, 2016
---
If you live in Phoenix, I can offer you a job.
Read More
---
by Justin
Posted on Wed Sep 21, 2016
---
Jesus Christ, please help me. Slipping into depression which has been affect sleep, eat and my relationship with bless family. Seeking another job. Please come in my time of need.
Amen
Read More
---
by Glen
Posted on Tue Sep 27, 2016
---
The Lord bless you and thank you for your vulnerability and sharing your walk with the Lord!
Read More
---
by Cathy
Posted on Tue Sep 27, 2016
---
I have been out of work for a year and my brother for 7 years. We are well credentialed but unfortunately we got old, in our 50s, and it is very difficult to find employment. Interviews we may get but no job materializes. Dear Jesus, we desperately need your help in finding suitable employment. Thank you Jesus for your help.
Read More
---
by dave
Posted on Sat Sep 24, 2016
---
lord bless me with a woman to be my wife. she needs to be a christian and have a job
Read More
---
by chris
Posted on Thu Mar 18, 2010
---
dear friends, all, who cry out to christ jesus, i pray for you. i am a dying man, i suffer agony everyday, i cannot care for my family, yet my suffering has brought me to know christ and i am blessed. so be strong in your faith, we are all worthy if we confess our sin and accept the lord's love. our prayers are answered, in the way he sees fit. we suffer but he gives us strength to endure. we suffer so that we may choose to be compassionate, just as he did as he suffered. pray for each other and all will be according to his grace. my heart aches for all who post here, know that you are not alone, and that you are loved. (read the beatitudes, and let those thoughts guide your prayer, dear friends all). humbly, chris
Read More
---
by Mike
Posted on Wed Sep 21, 2016
---
I pray Jesus will lead me from unemployed to a new position that will fulfill His plan for my life, and offer me a future. I am very depressed, and at times discouraged. I pray every day, and ask for prayer as well. Thank you.
Read More
---
by i
Posted on Sat Sep 17, 2016
---
i had dream about jesuse christ / prophet elijha right hand side of jesuse and saint peter left hand side so three of them floating not in space thats sure thay are not touching ground or floor / i remember peter was poining his finger on me but three of them had look on me and three of them with brtight white dressed up but no shoes on there feets then after few seconds thay flew like flying saucer toward the sky kindly help me what must i do ,
my e/mail is educationalimpex @ g mail dot com

Read More
---
by jesus will come
Posted on Sun Oct 25, 2009
---
those are good reasons, here is the Jesus Will Come Wallpaper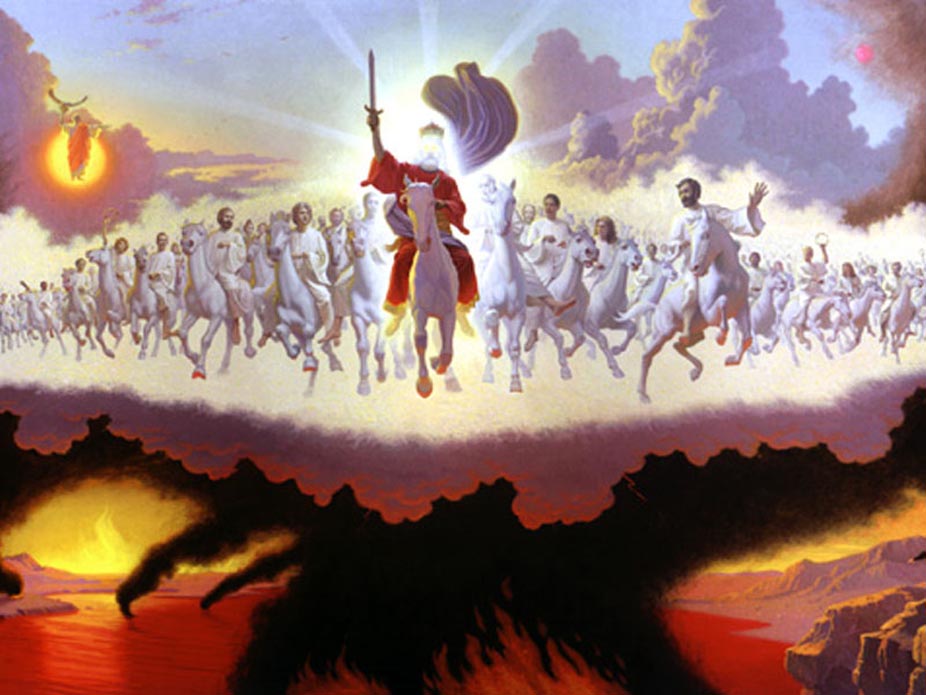 Read More
---
by Aquila
Posted on Wed Sep 14, 2016
---
I need Gods help for I am losed and I can't fine myself Please pray for me
Read More
---
by Grace
Posted on Sun Sep 11, 2016
---
Dear Lord, please bless me with a good job near my home. I need to start bringing income to my household. Thank you Lord Jesus for your provision and I will trust that You will provide a wonderful job for me. Amen!
Read More
---
by Martha
Posted on Tue Sep 06, 2016
---
I praise you Father God, love you and thank you for Jesus and all you've always done for me and my family and are still doing for us today. I love you with all my heart! You've kept your promises in your word to my family & I all our lives. Please continue to do this for us. May we all have a deep relationship with you all the days of our lives - my children, grandchildren, siblings & their children/grands, and myself. As Your word says, please make the crooked paths straight, keep us from temptation and evil, keep us close to you, and work out all things together for our good. Let Your perfect will be done in our lives as we stay very close to You by reading Your word daily, spending quality time with You daily in prayer (having that true relationship with you), worshiping You (as You dearly deserve daily), and just simply sitting at your feet daily in order to listen and hear from You, our loving Father. Help us Lord Jesus with ALL our problems, burdens, desires, and deep needs, for we lay them down before You as You tell us to do in Your word. And we will surely be careful to give You ALL the glory, honor and praise due Your wonderful and matchless name. Amen!
Your beloved child, Martha
Read More
---
by Derrick
Posted on Fri Sep 09, 2016
---
I need a career with fulltime employment. I need the woman I love to love me and talk to me. I need a home of my own, not a rental, not an apartment like I'm currently renting. I need you to help me Jesus, no one else can or will. I need you Jesus.
Read More
---
by Sean
Posted on Sat Jun 18, 2016
---
Please God help me find a wife.
Read More
---
by estan
Posted on Mon Sep 05, 2016
---
Gracias por nada
Read More
---
by Matthew
Posted on Fri Sep 02, 2016
---
I had a dream I tried to murder Jesus with a pick axe. As others have mentioned also, my heart immediately recognized that it was Jesus (intuitively knew). He is in all white, walking on a sidewalk in front of me. I leap in the air from a hillside, axe lifted over my head ready to swing down upon him. The moment I am to deliver the blow I feel his vibration. It is the calmest, most peaceful and stilling vibration I've ever felt. I stop right next to him and watch him peacefully walk by me. He does not look at me but keeps his head looking forward. Thank you for blessing me, Jesus.
Read More
---
by Vicki
Posted on Wed Aug 31, 2016
---
Thank you for your words of encouragement
Read More
---
by mexico
Posted on Thu Sep 03, 2009
---
como se pronuncia en ingles dios es fiel
Read More
---
by Dillon
Posted on Thu Aug 25, 2016
---
Luke 18:27 and he said the things that are impossible with men are possible with God .Dont give up the faith or hope Brothers in Christ. Being poor or differently abled is no hindrance to the Power of God. A good Proverbs 31 woman wont look at you for your bank account and wont be disuaded by a disability. She is going to be looking at your heart. Judge not according to apperance,but judge righteous judgement. John 7:24 I also get down from loneliness and think that I will never find a helpmeet.I feel vulnerable at times too but I beleive God will provide me with my much longed for wife. Please keep the faith gentlemen and I will pray in Jesus name the Lord answers your prayers. God be with you all.Regards, Brother Dillon
Read More
---
by Trey
Posted on Sat Aug 27, 2016
---
I have faith in Jesus and I know that he is my Lord and Savior. without him I am nothing. I married a women and then we divorced. I never stopped loving her and then a few years later we remarried. all the problems we had before are now resurfacing. She has told me that she does not care for me and it hurts so bad. All we do is argue and I find myself just running away every chance I get to avoid our daughter hearing us. I feel that I need to pick my bible up and read it and get more intune with God. I haven't done this yet. I need help...
Read More
---
by Caytlyn
Posted on Thu Aug 25, 2016
---
I had a dream that God was coming back two times and I am saved but trying to get better, BUT IT WONT JUST STOP SCARING ME EVERY TIME I DO SOMETHING WRONG I FEEL SCARED should I pray or should I tell preacher ? Me: Both he is telling us to get ready ..and I am almost ready.:)

Read More
---
by Cynthia
Posted on Tue Aug 23, 2016
---
Please Lord I need help with bill is there one that can help me I feel like no want two help I need 3000 two cover every thing please Lord help me
Read More
---
by pauline
Posted on Mon Aug 22, 2016
---
all i need in life is agood life,ajob to depend on my salary and no one else please help me in prayers
Read More
---
by Marc
Posted on Sun Aug 21, 2016
---
Jesus will feel better after the death on the cross and the tomb and the resurrection
Read More
---