Jesus Will Come - The Coming Of Our Lord Jesus Christ To Earth
This website is about the coming of our Lord Jesus Christ. Many people ask When Will Jesus Come back to earth for the rapture. The answer is very simple, no one know, not even the Son of God knows, But only God knows the exact time and date.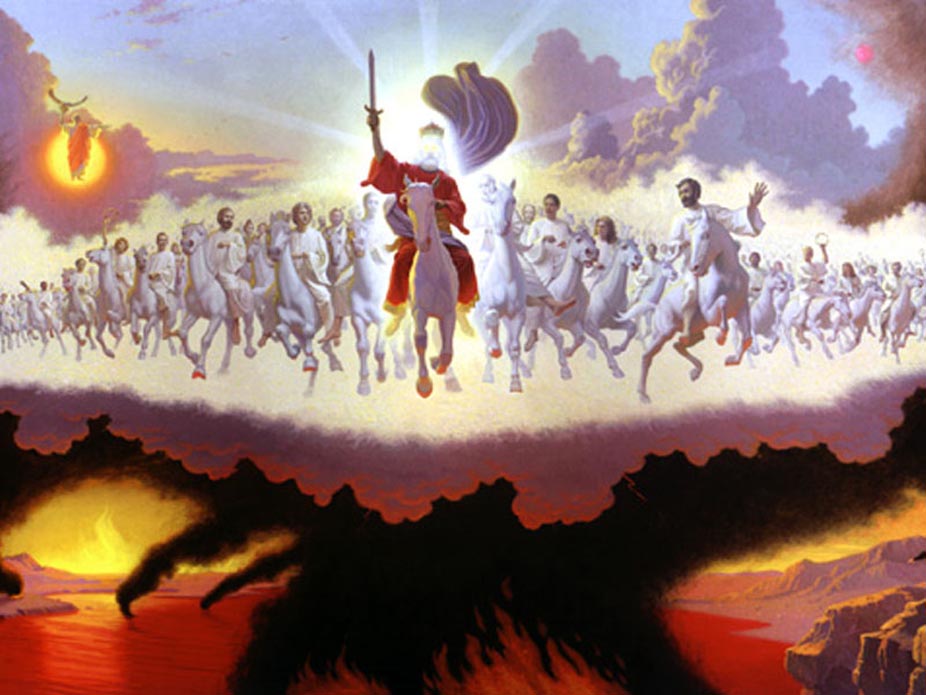 When Will Jesus Come?
Don't let anyone fool you. If someone tells you they know when Jesus Will Come, they are lying to you. Not even Jesus himself knows when he is coming back. The only one who knows the exact moment is God the father. Dont fall for false words. Many people may tell you they know, or they may say God talks to them and God has told them.. Don't believe, but you don't have to take my word for it. Look in your bible on Matthew 24:36 says: No one knows about that day or hour, not even the angels in heaven, nor the Son, but only the Father.
Why JesusWillCome.com?
You might be wondering, why create a website about the coming of Jesus? Well, the answer is simple. I believe the Lord called upon me to create this website to spread the word about the coming of Jesus. I wanted to give something back to Jesus. He has blessed me so much and I wanted to so something for him. But I am not a talented person. I am very shy. I admire those people who go out and preach the word to other strangers. I think it must take a lot of courage to do that. My mom once told me that God uses each individual according to their gifts, or their skills. I dont have those skills. My mother, she has the skill of just going to strangers and start a conversation. I would be proud of my mother when she would come home and tell me her experience when she would go out and when she come home, she would tell me how many people she had save. She called it 'Soul Winning' I admire her for that and i am very proud of her for that. I could not do that. But the Lord has blessed me with wisdom. Computer wisdom, that is. I started getting curious about how an internet web page works, soon I learn all the skills and bought the domain Jesuswillcome.com - originally, i wanted to get jesuswillcome.org, but it was already taken. So if you are wondering why jesuswillcome.com that is the reason. I hope you find good inspirational content on this website. if not, i would encorage you to leave your comments or perhaps write an article, you can write your own article in the 'Post New Topic' section above.
---
by bob
Posted on Mon Apr 02, 2018
---
i am 70yrs old i still need to work to meet my bills every month i am alone most of the timeafter reading all of the comments here i feel like jesus has been good to me some of these people have very hard lives i can see i will pray for all of these people i came on to this site looking for help, but i see that there are people more in need then i
Read More
---
by trina
Posted on Mon Apr 23, 2018
---
i am in desperate need of help, i lost my job after 18 years, due to health reasons, i am fighting to get it back, but its been four months out of work, and the money i had, is gone, my accont is overdrawn, rent and other bills are coming due, and the job market is terrible i get close, then the places i apply, say they have another person i am lost, tired, sad, scared, angry because i don't know what will happen to me i get so depressed, i am really trying, i put in applications every day, sooo many i do have a temp job,as a substitute teacher, but it doesn't pay well please help me!!!!!!!!
Read More
---
by The
Posted on Mon Jun 19, 2017
---
Unfortunately even God certainly has no control at all over a woman's behavior these days which makes it very hard for many of us good men looking to find a good wife and have a family since this is without a doubt a very difficult time finding love these days since it does really take two to tango now.
Read More
---
by orlando
Posted on Sun Jan 02, 2011
---
dios siempre nos esta esperando a que nosotros vayamos a el en oracion,pidele con fe porque la fe es la certeza de algo que no se puede ver,
Read More
---
by fernanda
Posted on Thu Mar 15, 2018
---
last night i had a dream where i saw jesus in my room i think and i started to cry and i fell at his feet and started asking for forgiveness i kissed his feet,they were cold he had his crown of thorns i felt so bad because he was bleeding so i cried because of that and because i saw him i dont think i no longer want to be an atheist after this dream pls help
Read More
---
by crystal
Posted on Mon Apr 16, 2018
---
i'm scared for the father of my children ,that they might b picked up & deported ,that they may b protected & not live in fear & not b deported or separated from their children
Read More
---
by l
Posted on Sat Apr 14, 2018
---
i believe in evili then must believe in god, goodness evil has posessed me i wish to be with goodness
help
Read More
---
by Douglas
Posted on Tue Jun 27, 2017
---
A few years ago I was ill for a long time with numerous ailments. Doctors were not much help. I attended a local church and was re-baptized in water. As I laid in bed I finally began to pray for the Lord to take me. This went on for days. At night I fell asleep and had a dream. I was in a house that was being renovated. Many workers, very busy. My job seemed to be the inspector. I was walking around inspecting the work and following a man. I was following him walking upstairs. I looked on the wooden banister/handrail and saw a divot. I said, "that needs work". I looked up and at the top of the stairs saw the opening to Heaven. There were people moving about and it was misty white.

Somehow I zoomed backwards in an instant and was now standing in the living room. Jesus was on the stairway. I had been following him. He was wearing a white robe and he threw a ball of energy that went into my chest. From this energy ball, I could feel his incredible and super clean, immense, powerful love. There are no impurities in his love or the atmosphere in Heaven. It is so awesome that tears are coming from my eyes as I type this. Jesus did not speak to me but he conveyed "the work is not done" and "I (Jesus) am working for you" (all of us).
I woke up the next morning and was healed from my ailments. Another take away was I felt Jesus gets energy from the Love we provide him. So when we pray, lets give him all our hearts like the Bible says!
Read More
---
by mariaarchan
Posted on Tue Nov 22, 2016
---
Quiero sabre escribir dois en ingles
Read More
---
by cindy
Posted on Fri Apr 13, 2018
---
i've been really becoming committed to my faith lately, trying really hard to submit to the lords will i pray a lot, but for the past couple of days had been meaning to get down in the living room and pray and i finally got the chance last night since i was off from work and doing laundry while everyone slept i prayed for a few things but one main thing i prayed for that i have prayed for before was that the god would give me the holy spirit so that i could just feel something so undeniable that i would turn away from sin foreverthirst forever and seek the glory of god forever the thought in my mind was of the woman in the bible who says if i could only touch his robe i will be healed i have literally only been asleep two hours, and i woke to my children's father and told him i saw jesus! i had my oldest daughter with me and at first we could see him in the distance huge facing the horizon a profile view but almost made up of clouds i tell my daughter, "look it's him!" i drive that way towards this tree and he was there laying almost in a hammock that i couldn't really see but i could see he was relaxing above the leaves of the tree, looking up i see the sun shining through the leaves his white robes and he didn't notice us so i turn the truck to go back from the way i came and and honked which made him jump a little and he turned around while i was thinking he wasn't going to notice us and while i started to drive away he reached out his hand and said come to me without a word i reached up to him almost like a he was pulling me from water and grabbed his forearm and looked right into his face he had a gold sash across his body and as soon as i touched him the same instant i finally experienced the fire of the holy spirit it was incredible! i'm so honored and am have been thanking god for answering my prayers since i woke i wanted to share with someone and told my kids father as he was going to work and then googled this and came here where i can tell you all that jesus is alive and well!!🙌🏼🙌🏼he looked like the painting from god is for real btw
Read More
---
by cindy
Posted on Fri Apr 13, 2018
---
edit: he looks like the painting from the movie heaven is for real!
Read More
---
by Fitzy
Posted on Mon May 04, 2015
---
Trust me Jesus looks exactly like Akaine's painting( 12 yr old girl prodigy)
Read More
---
by cindy
Posted on Fri Apr 13, 2018
---
i just posted my dream and i said the exact same thing! beautiful soft eyes!❤️
Read More
---
by alisha
Posted on Wed Apr 11, 2018
---
jesus i thank you firvrebuking the enemy and all evil and binding them and casting them in the lake of fire and forever locking the gates of #heck#please restore order to your world and abolish same #love- marraiage and the legalization of pagan religions of all kinds to be practiced which increase crimes and makes world worst place please the president trump cancel the passing of those 2 lawjesus please answer our requests, give us the godly desires of our hearts, meet our needs i thank you god and i thank you jesus and i thank you holy spirit for reigning foreverjesus help all senior citizens kids families that are of god
Read More
---
by mike
Posted on Wed Apr 11, 2018
---
dear god, jesus, holy spirit, please search my heart for any evil and take it away from me remove my addiction, my hate, my anger and help me to forgive and love others the way you want me to in jesus name i pray, amen
Read More
---
by john
Posted on Tue Apr 10, 2018
---
just in time always many thanks
Read More
---
by zama
Posted on Tue Apr 10, 2018
---
ooh lord please help me to find a job so that ican support my kids in the name of jesus i pray amen and help my husband too
Read More
---
by william
Posted on Wed Sep 28, 2016
---
Dear heavenly Father...
We humbly come before you and ask for strength and direction. We come to you broken in spirit, many of us broken physically as well. We ask for healing Father, we ask for a blessing of healing from the crowns of our heads to the soles of our feet. We thank you for your provision Father, as the name Adonai carries that of the good shepard, providing and protecting his flock. YHWH, you truly are sovereign and are in control of all things. We can trust that you allow anything that comes into our lives as something you will use to benefit us and bring glory to your name according to your purpose.Father, I ask in your holy name to bless these people on this message board, each individual here, your very children, bless each and everyone with your grace and mercy and loving kindness. Every last one of these men and women have come here seeking grace, forgiveness and guidance from your Holy Spirit. Each one having individual, personal issues and problems in which they are seeking your loving intervention. The very fact each person here has sought your word Lord, is a clear indication they have been drawn by you, drawn to seek truth and answers. You say to seek and you shall find, and so they seek and will find...you say ask and it will be given, and so they ask and can be confident it will be given...you say to knock and it will be opened, and each one of these brothers and sisters are knocking, and I believe it will be opened to them, their hearts and souls opened to receiving your awesome love and presence...Father, we thank you for sending your son to die in our place for our sins, for raising him from the dead and for drawing us all to yourself in Christ, that as we live our lives in Him, and Him in us, we can accomplish your will and bring glory to your name. My prayer is for all who are here seeking your Truth, that you will answer each individual prayer and need in a profound way as to bring an obvious revelation of your love and feeling of comfort to us all, wrapping us in your loving arms and strengthening our faith and desire and need for you...I pray this in Jesus' majestic name...amen
Read More
---
by erlindo
Posted on Tue Apr 03, 2018
---
i dream about people running and saying jesus finally had comedin my dream i immediately prayed our father for many times in loud voice repeteadly until i was tired and see him then a wake up
Read More
---
by Sean
Posted on Sat Jun 18, 2016
---
Please God help me find a wife.
Read More
---
by holly
Posted on Fri Mar 30, 2018
---
heavenly father,
i thank you god for this site, where we can publicly declare our love for you, and repent for our sins
i am a sinner, only saved by your grace, and your holy blood, i humbly ask that you forgive me, and that you continue to stand by me, so i know even though it seems i'm alone, i am not! you are next to me, holding me up, guiding me as i walk this path, you set before me i ask you too remove all people and things from my life, that do not glorify you and your holy spirit i ask for the wisdom to discern what you want for me!
i ask lord, that you protect my daughter, and i pray you give her a new heart, that loves you, and she will learn how to forgive as you have please, stop my ex husband from poisoning her young mind!
lord, i pray for the strength to always keep my eyes on you, and trust your time and reasons, even if it's painful or seems unfair i know you love me, and i ask that you fill my broken heart with your love and faith and in your time, i will know the answers too all my prayers
lord jesus, i am blessed, and love you and i thank you for all you have done in my life, please father, lift all who hurt! you, are the all mighty, the beginning and the end, the great physician, healer of pain and suffering! i have faith in you lord, you know all those who ask in your name, walk them through every trial, and tribulation!
today is good friday and i humbly pray and ask that you forgive anyone who does not know you, may the seed be plantedand they know your great name, and your mighty precious love! in jesus holy nameamen
Read More
---
by hurting
Posted on Mon Mar 19, 2018
---
help me jesus my husband died!!!
Read More
---
by leaving
Posted on Thu Mar 29, 2018
---
leaving america now and back to kuwait with money and treat my body of american hurt to have good life in kuwait with my family there and never back or seen america again
Read More
---
by roger
Posted on Thu Mar 29, 2018
---
i'm in the same siruatio will pray
Read More
---
by bob
Posted on Sat Mar 24, 2018
---
i pray to the lord daily many times but i still can not find work and have failed my family i have faith in the lord but all my praying goes unanswered! i will continue to pray and hold my faith in the lord please help me lord
Read More
---