Jesus Will Come - The Coming Of Our Lord Jesus Christ To Earth
This website is about the coming of our Lord Jesus Christ. Many people ask When Will Jesus Come back to earth for the rapture. The answer is very simple, no one know, not even the Son of God knows, But only God knows the exact time and date.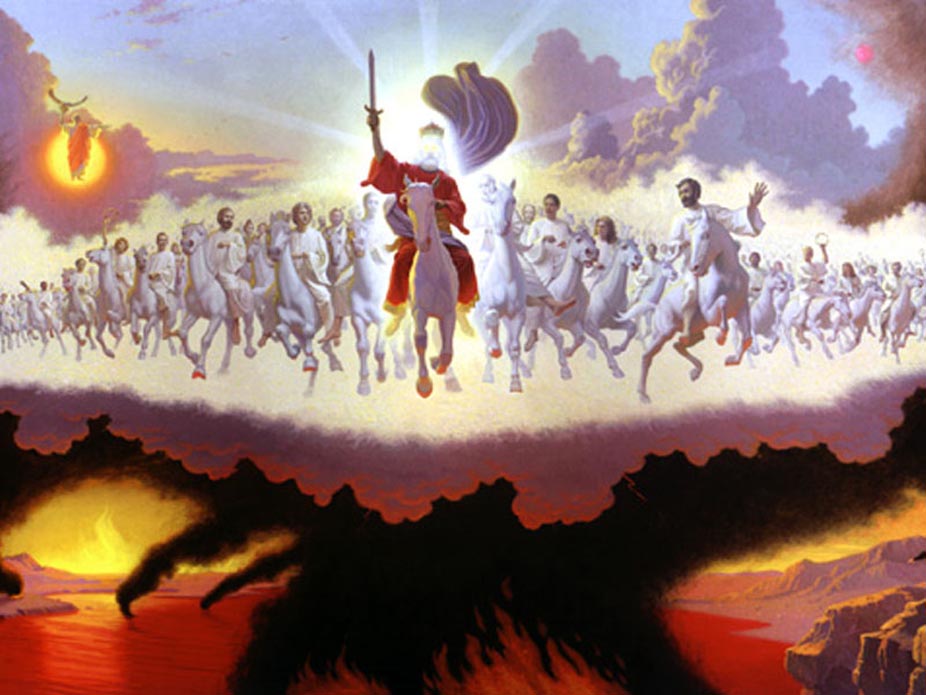 When Will Jesus Come?
Don't let anyone fool you. If someone tells you they know when Jesus Will Come, they are lying to you. Not even Jesus himself knows when he is coming back. The only one who knows the exact moment is God the father. Dont fall for false words. Many people may tell you they know, or they may say God talks to them and God has told them.. Don't believe, but you don't have to take my word for it. Look in your bible on Matthew 24:36 says: No one knows about that day or hour, not even the angels in heaven, nor the Son, but only the Father.
Why JesusWillCome.com?
You might be wondering, why create a website about the coming of Jesus? Well, the answer is simple. I believe the Lord called upon me to create this website to spread the word about the coming of Jesus. I wanted to give something back to Jesus. He has blessed me so much and I wanted to so something for him. But I am not a talented person. I am very shy. I admire those people who go out and preach the word to other strangers. I think it must take a lot of courage to do that. My mom once told me that God uses each individual according to their gifts, or their skills. I dont have those skills. My mother, she has the skill of just going to strangers and start a conversation. I would be proud of my mother when she would come home and tell me her experience when she would go out and when she come home, she would tell me how many people she had save. She called it 'Soul Winning' I admire her for that and i am very proud of her for that. I could not do that. But the Lord has blessed me with wisdom. Computer wisdom, that is. I started getting curious about how an internet web page works, soon I learn all the skills and bought the domain Jesuswillcome.com - originally, i wanted to get jesuswillcome.org, but it was already taken. So if you are wondering why jesuswillcome.com that is the reason. I hope you find good inspirational content on this website. if not, i would encorage you to leave your comments or perhaps write an article, you can write your own article in the 'Post New Topic' section above.
---
by Lora
Posted on Wed Dec 07, 2016
---
Dear Lord, I desperately need a job! Please be with me as I am losing faith!
Read More
---
by Helen
Posted on Fri Dec 02, 2016
---
I know that The Lord knows what we need before we even ask, he knows our every need, I'm trusting in GOD for a financial miracle !!!!!
Read More
---
by keith
Posted on Mon Dec 05, 2016
---
we need your help jesus to find a place to live with our son.. just a little more (financial) security in our lives. PLEASE JESUS, we need your help...
Read More
---
by Ann
Posted on Mon Nov 28, 2016
---
I need Jesus to help I'm trapped by lust and I don't know why I cant break free I love Jesus I don't know what wrong with me please pray I want to win this battle
Read More
---
by D.P.
Posted on Fri Dec 02, 2016
---
I pray Jesus helps you with your problem.
Read More
---
by Jill
Posted on Sun Jul 24, 2016
---
Please Lord for not obeying you. I missed your message and I am truly sorry please give me another chance please
Read More
---
by Trey
Posted on Sat Aug 27, 2016
---
I have faith in Jesus and I know that he is my Lord and Savior. without him I am nothing. I married a women and then we divorced. I never stopped loving her and then a few years later we remarried. all the problems we had before are now resurfacing. She has told me that she does not care for me and it hurts so bad. All we do is argue and I find myself just running away every chance I get to avoid our daughter hearing us. I feel that I need to pick my bible up and read it and get more intune with God. I haven't done this yet. I need help...
Read More
---
by loser
Posted on Thu Dec 01, 2016
---
I'm so sorry. I have lost everything too. I was a fool. I'm sorry for your pain.
Read More
---
by Anna
Posted on Tue Dec 01, 2015
---
Please lord..i really need you....
Read More
---
by forgiveme
Posted on Thu Dec 01, 2016
---
Dear God, forgive me for trying to be a big shot and so proud and vain. '-( I'm no one. Honesty is hard, and the truth is I can't go back and undo what has been done as much as I want to. I can't make amends with the past as I am guilty of trying to avoid the realities of life (suffering, the consequences of my sin). I'm nobody who wanted to be somebody, but isn't. My hopes were high in this life. Getting over myself and accepting the truth is the hardest and saddest part of my life. Fake smiles, fake friends. The truth is, I've lost everything. It's a bitter pill. Kept thinking my life would get better. That my love would come back. I'm a lonely loser who vainly tried to deny the truth of my sick condition: a selfish, self-centered vain soul who thought so highly of myself. '-( truth is, I'm very lonely. Please pray and forgive me for thinking I'm something when I am nothing. I guess I didn't want the happy day to end. Kept striving for my happiness in all the wrong faces and places. Guilty. Truth, I'm old and lonely. Miss the old days. Just lost a good job because I was tired of faking that I was nice or happy when all I want to do is cry. All I wanted never happened: a close loving family. It's terrible, nothing happy about it. Miserable and so is everyone I know. Please pray for me/us. I've had thoughts of jumping off a bridge to end the disappoint I am and the reality that my life is. There is no such thing as happiness in this life but I hungered for it in vain and in sin. I wish someone would have knocked me off my high horse when I was a teen. when my heart was completely broken and so was my life. it will never be good. I did the wrong things and now I have nothing other than a really bad life resume and no real relationships/life. I know there are millions like me. I'm no one. Quit trying to prove you are and alter the facts of your miserable life. (telling myself).
Read More
---
by Latonya
Posted on Sun Nov 06, 2016
---
Please pray for me, I've been dealing with so much hurt and disappointment.
Read More
---
by Jim
Posted on Fri Nov 18, 2016
---
I do not want to live any longer. I am tired and alone...I want to give up
I have worked hard. I am seventy two. I can not do it any longer.
Read More
---
by kemmy
Posted on Tue Nov 29, 2016
---
Dear Jim,
don't give up now, you have worked hard 72 long years. it is not time to give up. it is time for you to be a source of strength to others. your experience, wisdom and words of knowledge is what someone out there need.
hang in there Jim!
Read More
---
by Carolyn
Posted on Thu Nov 10, 2016
---
I don't just want to win for myself although I need money, too. But I need to help my four sisters who are desperately in need of money! I also want to help my Church because the funds they get are used to help others in our Church and /or our neighborhood. When I had money I bought a car for one of my sisters, and the other three sisters I bought houses for them. Now, I have no more money and I still need to help them. Trouble is, I'm not well and I'm out of money. This is the reason I would like to win this money. My sisters need help, my Church needs money and I need money. So, please Dear God help me to win. Please
Read More
---
by Carolyn
Posted on Mon Nov 28, 2016
---
This win would not be just for myself. I could help my four sisters who have monetary problems as well as myself and my Church. My Church would use the money to help those in need in and around our area. There are many people in need and this win would go a long way toward helping them.
Read More
---
by Angela
Posted on Mon Nov 28, 2016
---
I know the Lord is the only way I need his help with my financial now please pray for me ASP
Read More
---
by byju k joseph deaf and du
Posted on Wed Aug 31, 2011
---
we are deaf and dumb couples and both us are unemployoed now. we need get for a job as early as possible. pls help and praying for us need job and peace.
Read More
---
by rudy
Posted on Sat Nov 26, 2016
---
You may be deaf but not #silly.

Read More
---
by Mary
Posted on Thu Jun 02, 2016
---
"But my God shall supply all your need according to his riches in glory by Christ Jesus." Philippians 4:19. I'm going to rest on this promise even though I can't trace His hand. Faith is believing in something you can not see. I WILL get the job He has for me.
Read More
---
by chris
Posted on Thu Mar 18, 2010
---
dear friends, all, who cry out to christ jesus, i pray for you. i am a dying man, i suffer agony everyday, i cannot care for my family, yet my suffering has brought me to know christ and i am blessed. so be strong in your faith, we are all worthy if we confess our sin and accept the lord's love. our prayers are answered, in the way he sees fit. we suffer but he gives us strength to endure. we suffer so that we may choose to be compassionate, just as he did as he suffered. pray for each other and all will be according to his grace. my heart aches for all who post here, know that you are not alone, and that you are loved. (read the beatitudes, and let those thoughts guide your prayer, dear friends all). humbly, chris
Read More
---
by J.P
Posted on Sat Nov 26, 2016
---
I pray Jesus Christ gives you alot more years. Thank you for your prayers.
Read More
---
by God
Posted on Wed Oct 12, 2016
---
I love the Lord but I have a drug problem that just won't stop. I'm still young. Why can't I just feel good without it? I don't want to continue this way. I just want to be content without drugs. I want someone to love me as much as I would love them. (Not talking about the Lord's love here.). I just need help. I've tried everything to quit. Please just take it from me and if it's not too much to ask I would really appreciate a soul mate.
Read More
---
by mariaarchan
Posted on Tue Nov 22, 2016
---
Quiero sabre escribir dois en ingles
Read More
---
by the unknown
Posted on Tue Jun 29, 2010
---
as i walk through my valley of the shadow of death, im all alone, nobody to help or guide me, im a lost soul in this world, i need someone to guide me but there is nobody, im so lost..
Read More
---
by Allen
Posted on Tue Nov 22, 2016
---
Bro its not hard can u do somthing for me ?? Medetate on the word start with james 3:16
Read More
---