Jesus Will Come - The Coming Of Our Lord Jesus Christ To Earth
This website is about the coming of our Lord Jesus Christ. Many people ask When Will Jesus Come back to earth for the rapture. The answer is very simple, no one know, not even the Son of God knows, But only God knows the exact time and date.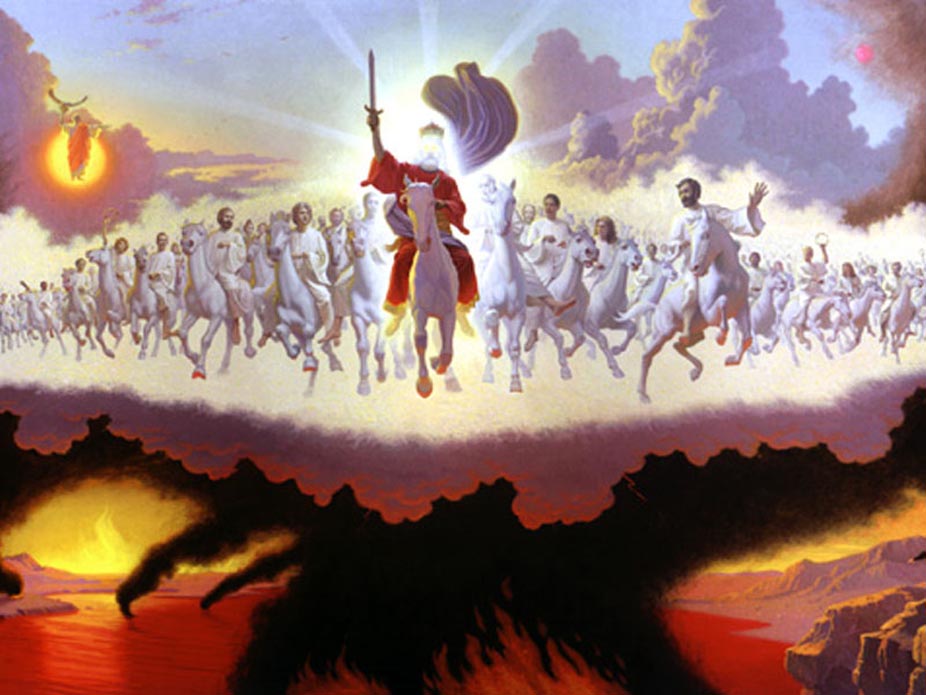 When Will Jesus Come?
Don't let anyone fool you. If someone tells you they know when Jesus Will Come, they are lying to you. Not even Jesus himself knows when he is coming back. The only one who knows the exact moment is God the father. Dont fall for false words. Many people may tell you they know, or they may say God talks to them and God has told them.. Don't believe, but you don't have to take my word for it. Look in your bible on Matthew 24:36 says: No one knows about that day or hour, not even the angels in heaven, nor the Son, but only the Father.
Why JesusWillCome.com?
You might be wondering, why create a website about the coming of Jesus? Well, the answer is simple. I believe the Lord called upon me to create this website to spread the word about the coming of Jesus. I wanted to give something back to Jesus. He has blessed me so much and I wanted to so something for him. But I am not a talented person. I am very shy. I admire those people who go out and preach the word to other strangers. I think it must take a lot of courage to do that. My mom once told me that God uses each individual according to their gifts, or their skills. I dont have those skills. My mother, she has the skill of just going to strangers and start a conversation. I would be proud of my mother when she would come home and tell me her experience when she would go out and when she come home, she would tell me how many people she had save. She called it 'Soul Winning' I admire her for that and i am very proud of her for that. I could not do that. But the Lord has blessed me with wisdom. Computer wisdom, that is. I started getting curious about how an internet web page works, soon I learn all the skills and bought the domain Jesuswillcome.com - originally, i wanted to get jesuswillcome.org, but it was already taken. So if you are wondering why jesuswillcome.com that is the reason. I hope you find good inspirational content on this website. if not, i would encorage you to leave your comments or perhaps write an article, you can write your own article in the 'Post New Topic' section above.
---
by w @ gmailcom
Posted on Thu Mar 22, 2018
---
can you pray jesus christ to give me his holy spirit i need him back in my life pleases
Read More
---
by dave
Posted on Wed Mar 21, 2018
---
god did it yes, god did it i've found the person i've been praying for my whole life she loves and serves god she's not a surface level christian i'm blessed and she knows i'm the one she waited for her whole life

keep hold of god serve him; obey him; do whatever he says if you don't hear the voice of god, shut off the noise of the world and focus on him we can only obey who we trust we can only trust who we are close to get close to god he makes a way when there is no way

i'm the same dave that posted on november 18, 2017 at 3:50 pm
Read More
---
by elizabeth
Posted on Mon Mar 19, 2018
---
thank you so much for the inspirational words and quotes my favorite was, whenever i don't understand, close eyes, take a deep breath, and say: god i know it's your plan just help me through it i was just speaking to my god daughter today i will truly be thankful if you pray for her she moved from birmingham to pensacola with her dad she was trying to make a better life for her and her kids her dad told her to come and he will help her alone the way he even let her to move in with him had her to look for an apartment for them he was coming up for retirement from the military, navy i think he wasn't true to her she came home from today, and she had a letter on heir door saying that she has three days to get out she haven't been there long, therefore, she really doesn't know anyone to go to other than god please pray for her strength to endure this storm that she's going through her name is mimi ms thomas i can't spell her first name, i'm sorry all i know how to do is pray she is really going through right now she is 29 years old with two children, she thinks that she is alone i told her that our father will not take her no where and leave her her dad on this earth may have left her; but i know in my soul that jesus is there with her as well i know that god still gives out miracles i'm praying over her a miracle thank your for your prayers for her thank you also lord for allowing me to find this page
Read More
---
by hurting
Posted on Mon Mar 19, 2018
---
help me jesus my husband died!!!
Read More
---
by fernanda
Posted on Thu Mar 15, 2018
---
last night i had a dream where i saw jesus in my room i think and i started to cry and i fell at his feet and started asking for forgiveness i kissed his feet,they were cold he had his crown of thorns i felt so bad because he was bleeding so i cried because of that and because i saw him i dont think i no longer want to be an atheist after this dream pls help
Read More
---
by geoffrey
Posted on Tue Mar 13, 2018
---
jesus, please help me i am down due to no job my mind is worried about my life please forgive and help me
Read More
---
by kelvin
Posted on Tue Mar 13, 2018
---
i am tired, i want a job
Read More
---
by leandro
Posted on Sat Mar 10, 2018
---
gracias thanks :d que dios te bendiga
Read More
---
by Paul
Posted on Tue Dec 26, 2017
---
I hear many doubting that their prayers will be answered. That God doesn't hear their prayers. Sit down and get all thoughts out of your mind by closing your eyes
and not thinking so much. You can't solve the problem of thinking too much with more thinking. Quiet down and listen to the still voice within you. Go out and have some compassion for others. This is what will make you happy. You may say I don't even have compassion for myself, how can I have compassion for others.
You will have compassion for yourself by having compassion for others. It's just like learning to swim. You just jump in and do it.
Read More
---
by Veronica
Posted on Tue Dec 12, 2017
---
I dream of myself sitting in chair and angels surroundings me what's the meaning.
Read More
---
by minister
Posted on Mon Mar 05, 2018
---
jesus is trying to tell you that you are protected and you will be protected by his angels and his archangels the rest of your entire life pray to god, and thank him for his grace, and mercy, and for a great life, and the way, the truth, and the life
love you with god, entirely, love minister john joseph magans Eight Six Zero Nine One Three One Six Two Zero
Read More
---
by minister
Posted on Mon Mar 05, 2018
---
i can't seem to find this scripture verse " what you have done for others you have done for me"
Read More
---
by Vicki
Posted on Tue Nov 28, 2017
---
I just had my first dream of Jesus about a week ago. I had been struggling with a broken heart as well as other issues from the relationship and in my dream I was sleeping on my couch and Jesus was kneeling on the floor next to me soothing me by his neatness and he was stroking my hair and face-like he was calming me and ridding me of my sadness and anxiety. I did start the healing process of acceptance and picked myself up out of depression. It was a beautiful dream
Read More
---
by minister
Posted on Mon Mar 05, 2018
---
vicki, you are obviously a very special and of cordiality woman with the lord as i am a servant of the lord, i say may the lord bless you even higheri don't know your age, i may be somewhat of an older man but i say if you would like to get to know a very, and very blessed man of the lords, please call me at Eight Six Zero Nine One Three One Six Two Zero for simple none important information, i happen to be on my way to becoming a very important man of the way, the truth and, and the life[ the lords way ] thank you, very, very much, minister john joseph magans
Read More
---
by
Posted on Tue Apr 11, 2017
---
I just got out of a 5 year relationship with a man. And realized that was not the life that God had intended for me. I am the oldest in a family of 5. All of my siblings are married and habe children. I am apporaching 30 soon and I would love for the Lord to bless me with a good godly wife. Alot of women wouldnt take the risk of dating someone like me because of my past lifestyle. However, i rubuked the past and i want to focus on the future. Christ has blessed me in so many ways. He helped me become a deacon of a church, he helpled me when I was homeless, Jesus repaired a broken relationship i had with my parents for 20 years, he has blessed me with a good job, and even blessed me with a roof over my head. On my free time away from work i do volunteer work for the homeless shelter. Even though my life has gotten busy recently I do admit i feel very lonely when i come home from work and there is bo one there but myself. I think im a good looking man who possess alot of great qualities. I cry ever night before i fall asleep and hug my bible before I go to bed. I would love all of my brothers and sisters to pray for Jesus to bless me with a great woman that will build me up and has a godly covenant with me. Through Christ Jesus name. Amen
Read More
---
by tom
Posted on Sun Mar 04, 2018
---
i need help so as not to watch porn
Read More
---
by administrador
Posted on Thu Mar 01, 2018
---
How Good I am and that one has to learn by heart
Read More
---
by Renato
Posted on Thu Mar 01, 2018
---
My wife died of Cancer, it was 1 week later and in my dark bedroom at night curtains drawn- I live in the country- no traffic. I knelt and in unimaginable pain I called out God's name 3 times then I called out my wifes name 5 times- 8 times I pleaded. Then a 8 pointed star flashed in the mirror of the chest of draws in front of my bed. I said to myself, 'did you see that?" I knew straight away it was Jesus letting me know she was OK. I still grieved intensly- it is 4 1/2 years later now. Thankyou Jesus.
Read More
---
by Elizabeth
Posted on Wed Nov 26, 2014
---
Two days ago I was praying and had a vision of Jesus offering me an apple, I go to take it and he throws it for me to "fetch" it (he tells me to fetch it and laughs! LOL), I go and get it but offer it back to him. Then today while praying I saw myself with him again and he offered me an apple but I just let him have it. I have many visions of Jesus while I pray. It makes me happy to see him with me. and he laughs a lot.
Read More
---
by Asu
Posted on Wed Feb 28, 2018
---
When I was younger I used to have the same dream over and over again for many years. I would feel as if I'm awake but my eyes are closed and I would hear the trumpets and as I looked up into the sky I would see Angels the trumpets were so loud everyone could here them as I would look to my left in the sky I would see wide stairs and all different kinds of people were going up and I saw golden gates and a golden throne where God was sitting at. As I looked down I saw holes on the ground and felt earthquakes and saw tornadoes with lots of wind and people crying and screaming And I saw demons and the sun was red almost like blood. I felt in my dream like when is it my turn and I would See Me and my family praying but all the disaster never touched my parents home. And I would wake up. That's my experience.
Read More
---
by Adisty
Posted on Tue Feb 20, 2018
---
February 20th 2018, It was my lucky date and a gift from God. I have never experienced this before in my life. I had a dream, in my dream i felt my body was like something coming out. It was like my spirit. And at the time i was standing out of nowhere in a dark place. I was totally scared, i thought i was dead already. Not long afterwards, i saw a man with a wave hair and there was bright light around Him and then He came up to me held my cheek with one hand and smiled at me. At that time, I was so terrified and i suddenly closed my eyes, cos i felt i wasn't ready and worthy to see Him. What i felt when He was touching my cheek, my heart felt so peaceful. After that, i bravely opened my eyes and asked Him, The Lord Jesus is that You? But, He didn't answer me, He just kept smiling at me. Soon, He just dissapeared.
Read More
---
by Asusena
Posted on Wed Feb 28, 2018
---
I had an abortion because I had already had three other children and I was going through depression and doubts about my marriage. I had the appointment scheduled and the day came when I had to be at my appointment. I remember as soon as I lay their I saw the ultrasound and I was afraid and I felt a pinch and some cramping and done. It was the worst feeling I had ever felt. That same day I felt the guilt and the feeling of what have I done... I was upset with myself even though I didn't say anything to my husband at the time. So that night I prayed to our heavenly father and asked for forgiveness and made a promise to him that no matter what my life is like going through whatever quill never have another abortion again and I also added that I would try in 4 years... Well after 4 years I became pregnant only this baby I was carrying was not my husbands. I didn't know what I was going to do and how I was going to tell my husband but the guy I was seeing gave me the money to get an abortion and I took it. The day came when I was going to make that appointment that morning and as I was waking up before I opened my eyes I saw a bright light but it didn't hurt my eyes I saw Jesus and he walked towards me and looked at me and said remember your promise and then I woke. 12 years later I have a handsome young boy. I'm going through some rough obstacle with him but I know it's part of his plan. I love my son. I now have 8 children and I'm glad I kept my promise. Praise the Lord. Amen.
Read More
---
by Mervin.Anderson223 @
Posted on Wed Feb 28, 2018
---
Am looking for a good relationship now
Read More
---
by joes
Posted on Fri Feb 05, 2016
---
---
greetings to you all my friends,am joes from united states of america i am here to share my testimony on how i got my ex back with help of a great LORD ,i came across him while i was surfing the internet and all i requested from him to do for me all came to past he is a true and also honest and trust worthy you can reach him via his personal him your problem and he'll help you solve them.God bless.and thank you all for reading my own part of his works.
Read More
---
by larry
Posted on Sat Feb 24, 2018
---
I need jesus to allow me to move my residence to where he chooses. please, I am 70 years old and I know I need a change to my minestery I feel the holy spirt will be with me in this move.
Read More
---