Jesus Will Come - The Coming Of Our Lord Jesus Christ To Earth
This website is about the coming of our Lord Jesus Christ. Many people ask When Will Jesus Come back to earth for the rapture. The answer is very simple, no one know, not even the Son of God knows, But only God knows the exact time and date.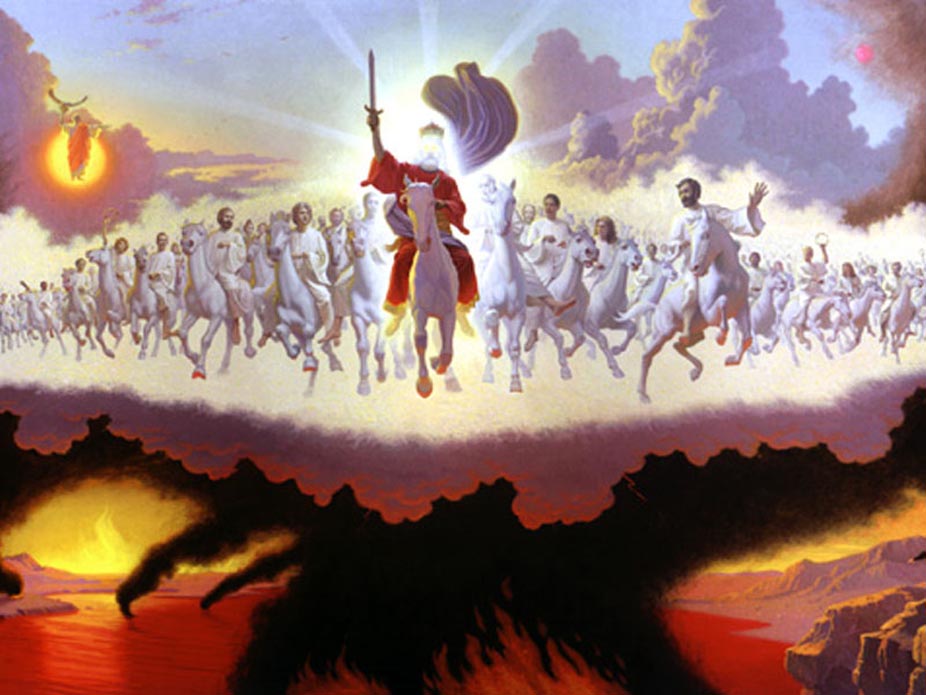 When Will Jesus Come?
Don't let anyone fool you. If someone tells you they know when Jesus Will Come, they are lying to you. Not even Jesus himself knows when he is coming back. The only one who knows the exact moment is God the father. Dont fall for false words. Many people may tell you they know, or they may say God talks to them and God has told them.. Don't believe, but you don't have to take my word for it. Look in your bible on Matthew 24:36 says: No one knows about that day or hour, not even the angels in heaven, nor the Son, but only the Father.
Why JesusWillCome.com?
You might be wondering, why create a website about the coming of Jesus? Well, the answer is simple. I believe the Lord called upon me to create this website to spread the word about the coming of Jesus. I wanted to give something back to Jesus. He has blessed me so much and I wanted to so something for him. But I am not a talented person. I am very shy. I admire those people who go out and preach the word to other strangers. I think it must take a lot of courage to do that. My mom once told me that God uses each individual according to their gifts, or their skills. I dont have those skills. My mother, she has the skill of just going to strangers and start a conversation. I would be proud of my mother when she would come home and tell me her experience when she would go out and when she come home, she would tell me how many people she had save. She called it 'Soul Winning' I admire her for that and i am very proud of her for that. I could not do that. But the Lord has blessed me with wisdom. Computer wisdom, that is. I started getting curious about how an internet web page works, soon I learn all the skills and bought the domain Jesuswillcome.com - originally, i wanted to get jesuswillcome.org, but it was already taken. So if you are wondering why jesuswillcome.com that is the reason. I hope you find good inspirational content on this website. if not, i would encorage you to leave your comments or perhaps write an article, you can write your own article in the 'Post New Topic' section above.
---
by
Posted on Tue Apr 11, 2017
---
I just got out of a 5 year relationship with a man. And realized that was not the life that God had intended for me. I am the oldest in a family of 5. All of my siblings are married and habe children. I am apporaching 30 soon and I would love for the Lord to bless me with a good godly wife. Alot of women wouldnt take the risk of dating someone like me because of my past lifestyle. However, i rubuked the past and i want to focus on the future. Christ has blessed me in so many ways. He helped me become a deacon of a church, he helpled me when I was homeless, Jesus repaired a broken relationship i had with my parents for 20 years, he has blessed me with a good job, and even blessed me with a roof over my head. On my free time away from work i do volunteer work for the homeless shelter. Even though my life has gotten busy recently I do admit i feel very lonely when i come home from work and there is bo one there but myself. I think im a good looking man who possess alot of great qualities. I cry ever night before i fall asleep and hug my bible before I go to bed. I would love all of my brothers and sisters to pray for Jesus to bless me with a great woman that will build me up and has a godly covenant with me. Through Christ Jesus name. Amen
Read More
---
by Joseph
Posted on Mon Aug 21, 2017
---
Praying for you in the name of Yeshua...wait for the Lord brother in his time not ours.
Read More
---
by Robert
Posted on Sat Aug 19, 2017
---
I have had 2 dreams of Christ. The first was a nightmare. Jesus was as tall as a mountain. The skies were dark and glowing red in color. He was scaning in the woods with these beams of light coming out of his eyes. As he scanned the forest you could hear a swooshing sound it made. Then you could hear crashing and people screaming and crying in the forest. I saw this from a distance I would say of about a mile. When that happened I took off running away and hide behind and old fallen tree that looked like it was 200+ years old but all rotted out.

The other dream I had I was running down the street because I had heard he had returned and was on the next block. I was having a hard time seeing the sidewalk though like I was partially blind. I just know I was making my way as best I could crying my eyes out.

Kind of odd dream though. I had this dream before my accident and I am now partially blind.

If anyone is interested in this. I have found out how big the size of the Kingdom of Heaven his. The New Jerusalem. Its not some floating city in the clouds. This thing I do not think could even land on our planet. The address is www dot fbyasteroids dot com/images/star_of_bethle

Be prepared ... Jesus Saves !!!
Read More
---
by Ashley
Posted on Fri Mar 11, 2016
---
I dreamt I was riding in a car on a winding black paved road. I saw my cousin(who is deceased). I yelled for the driver to stop. They wouldn't. My cousin waved her arm as if she was telling me to keep going. I was so sad. Then a huge flood came. I was drowning. I was terrified. Then I felt arms around me holding me like a baby and I hear a voice as clear as day telling me to breathe. And I thought the words I can't. I heard the voice tell me to trust him. And he said again, breathe. So I did. And I was pulled from the water. I saw His face. It was Jesus and I held him tight as He told me everything is going to be alright.His mouth never moved. I will never forget the emotions I felt while having this dream. I woke up and cried. I still get teary eyed and chills when I think about and talk about it. I will cherish it forever. He is Alive. He is coming back for us.
Read More
---
by
Posted on Tue Aug 15, 2017
---
Thank you for the quotes, i'm going through a lot of turmoil in my thinking and they really calmed me down!
Read More
---
by tHOMAS
Posted on Mon Aug 14, 2017
---
PUTTING MY FAITH IN MY SAVIOUR.
Read More
---
by Jesus
Posted on Mon Aug 14, 2017
---
Jesus help me to find a job...
Read More
---
by frank
Posted on Sun Aug 13, 2017
---
I lost my drivers license on 09-04-2013, had to sell my $10,000 F-150 for $500 because I couldn't keep a plate on it, the apt. complex was going to tow it away. Then I had a stroke on 11-22-2015, then my right hip gave out & my Dr. had me admitted to a hospital for a bad blood clot in my left leg on 09-01-2016, I couldn't get a medical release to go back to work & then lost my job & medical insurance on 10-01- 2016. I'm $20,000 in debt. for not working the last year with $10,000 in medical bills too, I'm 58, no family & no such thing as friends to help me here in Michigan, I'm losing my apartment now, with winter coming I have nothing but suicide left ! ! ! , 500 aspirin, 120 sleeping pills, 1/2 gal of vodka, & a case of beer should do it, I hope I don't have to wake up & shoot myself with my 9mm. ! ! ! , I'm Praying to Great God Almighty and his Son Jesus Christ our Lord for a miracle of rescue & financial restoration /0\ . If not I should be dead within 7 to 10 days, I cant afford to live & go on any more ! ! ! , praying for a miracle, Frank David
Read More
---
by kelebogile
Posted on Thu Aug 10, 2017
---
All I need in my life is to be happy
Read More
---
by Lisa
Posted on Wed Aug 09, 2017
---
Years ago, I often prayed to God and Jesus, asking specifically to see Jesus, because I felt it would give me a comfort, in a very difficult time in my life. I would ask, please let me know how you feel about me.
While on vacation in Colorado, I had a dream of walking in the forest, very small clearing, was Jesus, he spoke nothing, and motioned with his right hand to a Doe and a fawn nestled, in a beam of sunlight. Jesus had very trimmed hair, dark brow. About 5'6, trim and in a white robe.
When I woke, and for days after. I kept asking, why is your hair not long like in the paintings? The answer, finally was, that he is no longer a lamb, but a King.
Read More
---
by lisa
Posted on Wed Aug 09, 2017
---
So sorry, I miss spoke. It was his left hand.
Read More
---
by manesh
Posted on Wed Aug 09, 2017
---
Pls save my famly
Read More
---
by Dianah
Posted on Wed Aug 09, 2017
---
Dear Heavenly Father, although am going through hard times, I know that you know me by name, I really don't know why am going through this or why my prayers are not being answered, I will still hold onto you my Lord.cause you know me better than I know myself, I only pray that yo will be done in me Father. Amen
Read More
---
by Ellie
Posted on Tue Aug 08, 2017
---
For several nights I dreamt something evil was after me. I prayed God's prayer but the evil always returned. Then one night as the evil dream returned all of a sudden Jesus was there. I could not see his face because it was so bright but I KNEW it was Jesus. Jesus told me to fight the spiritual war with satan/demons that i had to have total faith..not just saying that I have it but to feel
it in my body with no doubts in my head. I felt the warmth of faith flowing throughout my body and to this date have never had an evil dream or fought in spiritual warfare since.
Read More
---
by Ann
Posted on Tue Aug 08, 2017
---
Lord, I am praying for this nation for everyone including myself and immediate family that Lord you will give us the desires of our hearts in the job sector on this earth. I pray God that you will grant us favor in the job market whether this may be a new job, raises, or to be trained in a more higher economic status on a job we may hold. I pray for my brothers and sisters that Lord you will give us jobs that we desire in efforts to help ourselves and be a beacon to those who do not have anything. Lord, let us not be selfish in our request but be humble in our wants and needs. Lord, I pray as my desire that my request in the job sector will be in alignment with your Blessed Will for my life. I pray that also you look on each and everyone of my neighbors that are looking and praying for the same concept as myself.
Thank You Jesus Christ, Amen
Read More
---
by Pam
Posted on Mon Aug 07, 2017
---
I dreamed Satan was in room with me and all I felt was fear. I looked up and Jesus was there beside me. Of course Satan did flee. I felt such a peace when I woke up.
Read More
---
by CHRISTOPHE
Posted on Tue Aug 01, 2017
---
JESUS help my helps , JESUS save my saves , JESUS walk my walks , JEO my leads , JESUS love my loves , JESUS win my wins , JESUS I WILL NEVER LEAVE YOU BECAUSE YOU ARE ME AND I'M YOU
Read More
---
by Walter
Posted on Tue Jul 25, 2017
---
I ask Jesus Christ today where to find do unto others what you want them to do to you. And he did not ancer me so I had to get a hold of a preacher and the preacher told me so Jesus Christ does not here my prayers so what am I to do now
Read More
---
by Anon
Posted on Thu Jan 26, 2017
---
Praying a miracle restoration for a blessed home soon and for loved ones who are also Ill and suffering. I am not safe here home needs too many repairs and i need to get away from this abuser I have to confront daily. Please hear us all and help us soon and protect us all my Lord
Read More
---
by Su
Posted on Tue Jul 25, 2017
---
Have you heard of restraining order? And of using 911, as necessary? Does your abuser need to be locked up so you have time to get away?
Read More
---
by Rick
Posted on Mon Nov 14, 2016
---
dear lord please forgive letting you go with out a second thoutht please come back in to my heart and strengthing me to fight the devel and with faith and trust in you please help me lord in jesus name i pray amen
Read More
---
by Latonya
Posted on Sun Nov 06, 2016
---
Please pray for me, I've been dealing with so much hurt and disappointment.
Read More
---
by timothy
Posted on Fri Jul 21, 2017
---
Ilove jesus Christ.he saved me and forgave all my sins. I pray that I push on till he comes. Yes I have problems like all others brethrens but jesus is carrying them for me. I encourage other brethrens to belief the same. Amen.
Read More
---
by Jimmy
Posted on Wed Jul 19, 2017
---
Father in Jesus name. Heal my body n mind, father I ask you if u could heal my stomach, u know I been sick from my stomach for about 13 yrs. please take alway the conspation n diarrhea n the gas n bloated n cramping n pain.
Read More
---
by Walter
Posted on Sat Jul 15, 2017
---
No Jesus Christ does not love me or He would forgive me for turning my back on Jesus Christ right.
Read More
---