Jesus Will Come - The Coming Of Our Lord Jesus Christ To Earth
This website is about the coming of our Lord Jesus Christ. Many people ask When Will Jesus Come back to earth for the rapture. The answer is very simple, no one know, not even the Son of God knows, But only God knows the exact time and date.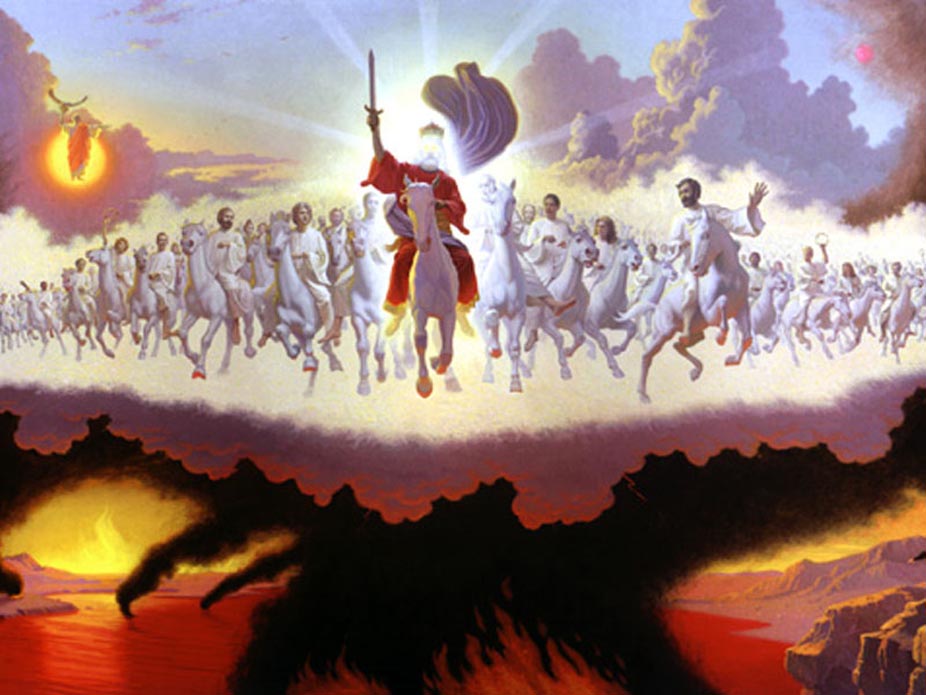 When Will Jesus Come?
Don't let anyone fool you. If someone tells you they know when Jesus Will Come, they are lying to you. Not even Jesus himself knows when he is coming back. The only one who knows the exact moment is God the father. Dont fall for false words. Many people may tell you they know, or they may say God talks to them and God has told them.. Don't believe, but you don't have to take my word for it. Look in your bible on Matthew 24:36 says: No one knows about that day or hour, not even the angels in heaven, nor the Son, but only the Father.
Why JesusWillCome.com?
You might be wondering, why create a website about the coming of Jesus? Well, the answer is simple. I believe the Lord called upon me to create this website to spread the word about the coming of Jesus. I wanted to give something back to Jesus. He has blessed me so much and I wanted to so something for him. But I am not a talented person. I am very shy. I admire those people who go out and preach the word to other strangers. I think it must take a lot of courage to do that. My mom once told me that God uses each individual according to their gifts, or their skills. I dont have those skills. My mother, she has the skill of just going to strangers and start a conversation. I would be proud of my mother when she would come home and tell me her experience when she would go out and when she come home, she would tell me how many people she had save. She called it 'Soul Winning' I admire her for that and i am very proud of her for that. I could not do that. But the Lord has blessed me with wisdom. Computer wisdom, that is. I started getting curious about how an internet web page works, soon I learn all the skills and bought the domain Jesuswillcome.com - originally, i wanted to get jesuswillcome.org, but it was already taken. So if you are wondering why jesuswillcome.com that is the reason. I hope you find good inspirational content on this website. if not, i would encorage you to leave your comments or perhaps write an article, you can write your own article in the 'Post New Topic' section above.
---
by Sabrina
Posted on Tue Jan 16, 2018
---
I left a 10 year marriage because I was unhappy. We decided to end it before we hated each other because we have a 5 year old daughter to raise together. I left everything behind, our house, my beloved pets, my family, and moved to another state with my daughter. The new school she is in is 10 times better than the one we left behind and she is thriving there, but misses her dad terribly. She tells me regularly that she loves me and will miss me but wants to live with her dad. I jumped into another relationship with a man that I knew from before my marriage, back when I was still a kid. it had been over 20 years since we had talked. He gave me a place to stay when I moved. He has a 14 year old son. It has been such a complete lifestyle change. it's so scary. It's been only two months since I left my husband, but it seems like I'm even more conflicted now than when I first left. I finally got a job that I'm supposed to start in a couple days. I think of everything I left behind and my heart hurts. Learning how to follow these new rules and adjust to this new life is so hard. I can't even have my pets inside here and I've never been without an animal to comfort me. I watch for the smallest detail and try to interpret what it means and it just keeps my brain spinning. Ive been forced to start enforcing new rules on my daughter and myself which keep us both up and going. my daughters behavior is getting better. I'm not curled on a chair half the day thinking of other lives while my daughter fends for herself with the tv. but I sit here wondering how much was him and how much was me. I wan to go back, and I don't know if its my ex husband I miss, our life in general, or being able to be with and take care of my family. I'm also insecure, unstable and more confused and hurt than when I left. Please god, I'm so confused and hurt and unsure of this path that I'm on. wrap your loving arms around me and show me your will. help guide me to the path you want me to walk. in your loving name, amen.
Read More
---
by tony
Posted on Mon Jan 15, 2018
---
I need you quickly lord please help me....with all my heart soul and mind and body please help me
Read More
---
by Trevor
Posted on Mon Jan 15, 2018
---
I have cancer of the lung and was told the chemotherapy is not working so may only have a matter of months to live and would love Jesus to help me
Read More
---
by anjali
Posted on Sun Jan 14, 2018
---
---
o mighty jesus my lord my saviour please help me to choose my career...give me a good direction to choose help me jesus help me.
Read More
---
by Elizabeth
Posted on Sat Dec 30, 2017
---
I've had numerous dreams and visions of Jesus. I've even been blessed to see Him with my own eyes and feel my heart burning within me!
This one dream I was in a very rich man's house but I never seen the owner of the house. There were a lot of people running around very busy getting ready for a party for lots of people. I realized they were the servants of the rich man. There was tons of food and they needed to get quite a few tables and chairs set up for everyone that was coming to the party. Then the next day was September 11th and I realized this dream was prophetic and God was showing me Heaven was getting ready for all the people. It's completely amazing that God sees death as a homecoming and a party!

The day I seen Jesus, I was in church on Wednesday. We were electing our new pastor. Everyone had voted and they were in back counting the votes. I suddenly felt this incredibly powerful force in my chest and it terrified me. It was at the back of the church. I could feel this presence moving up the aisle getting closer to me. I waited until it was right next to me and I opened my eyes to look and it was Jesus!!! I was frozen and couldn't move with awe. All white, white robe, glowing from the inside out. He continued walking up the aisle and then disappeared at the front. The burning sensation left too. I never got to see His face and I'm disappointed in that. Two days later my husband said his father accepted Jesus into his heart on Wednesday and he passed away on Saturday. So I realized Jesus came so I could see He came down from Heaven to get my father-in-law just like Scripture says He leaves the 99 to get the one. He's faithful!!
Read More
---
by Laurel
Posted on Sun Jan 14, 2018
---
Wow, that was Amazing Elizabeth. I know Jesus well and First saw him when I was 7 Years Old and wanted to kiss his feet. Now I am nearing 60 and Jesus has blessed me many times and Did not pic out the slum I live in. According to My Church although the walls were cracked open with mold spilling out it was OK. Jesus for the fourth time got me to Finally leave this Church, that was all about The very wealthy and money. I was raised wealthy and a corporate worker until I could work no more as My Doctor said My Temporal lobe Epilepsy was getting worse. I am So Happy for you that your Father in Law got to go to Heaven! I hope he blesses you and your Family Continually In Jesus name Amen.
Read More
---
by Laurel
Posted on Sun Jan 14, 2018
---
I have Mighty Faith, Love and Hope in Jesus, the Father and the Holy Spirit. I am Very Ill with a permanent Brain Injury since Birth, 11 Broken Bones from spousal abuse, Scoliosi and am Permanently Disabled. I live in a slum and recently I found out On MY low Enough income that there is illegal outlet Box in my Room and I am also paying someone elses electric Bill. There is no insulation and Rats in the walls. I have a sick Cat and the Toxic mold is making us sick. I have been Served with a non lease Renewal and have not had it renewed since 2015? I have to be out on January 31, 2018.with no rent money. I KNOW Jesus and the Father have a better place for me already picked out. Yes I am a little scared, but no enough to lose my Love and faith for Jesus. Any extra Prayer would not hurt
Read More
---
by aye
Posted on Mon Aug 24, 2009
---
en exodo capitulo 20 vesiculo: 7 no stan los 10 mandamientos
Read More
---
by Sheeladevi
Posted on Sun Jan 14, 2018
---
Please lord help my child school fees. Help me jesus .glory to jesus.pls pray for me
Read More
---
by Deshay
Posted on Sat Nov 11, 2017
---
My heart is heavy, because the man I love left me abruptly with no explanation, I may have said something to challenge him I wouldn't say anger because it was how I was feeling about our relationship, I believe in my heart that he cares but its hard for him to face me, but he wont respond at all, it hurt so bad right now, I believe God will heal me and Jesus would deliver me but I really need closure from him, I know only Jesus can give me peace. I've seen him work in my life , but this is really a stronghold for me, I really care for him and made hellish sacrifices but that was all in the name of love. Please just pray on my behalf that God will soon intervene and comfort because the anguish is unbelievable heartbreaking, But I carry on its just I find myself crying uncontrollably, Its been 3weeks and he haven't responded by any means. I know he needs deliverance as well from pass hurt by the church.
Thank You All My Bro. and Sis. In Christ Jesus
Love AMEN.

Read More
---
by Jon
Posted on Tue Aug 29, 2017
---
I saw Jesus Christ in a dream. I came to him at an altar. He was very tall and very bright white. He was holding a dove in his hand. He said to me "You are going down the wrong path." "Come visit a church, they are waiting for you." "You need not be afraid, you are always welcome there." Then he released the dove from his hands. It was glowing very very bright white as it flew away. It was like staring into the sun it was so bright. Then Jesus said "Let the spirit guide you."
Read More
---
by c o n n i e . t s o l o &
Posted on Mon Jan 08, 2018
---
I need help from Lord Jesus i am debit which i can't pay i need. Money urgent to have inner peace 65 years old woman in South Africa no. One cares aboutmy mistake i am shame
Read More
---
by stacy
Posted on Fri Jan 05, 2018
---
i just got my relationship back within 48hrs to also get this kind of help email this good man now at m i r a c l e c e n t e r 1 1 0 @ gmail.co
Read More
---
by
Posted on Thu Jan 04, 2018
---
Dear lord Jesus help l love you and trust in your mercy
Read More
---
by Edward
Posted on Sun Dec 31, 2017
---
I had a dream about a week ago.It was super beautiful jesus was next to me and my mother and he said to me that he is travelling to each planet in the universe and show me in my mind what planets he was going next.The planets were much similar to ours but different colors of vegetation and water. Then he show us a white radiant rod he was holding im his hand and told us he uses the power of that rod to travel to other planets.Me and my mother were so happy we spoke with him and we started laughing with jesus about hiw amazing his power is.I also mention that he spoke to us mentally ,he never open his mouth to speak.When i wole up i knew that wherever he is ,he is always everywhere when we need him to guide us in our needs and wishes.Personally i think that jesus is our friend when we have faith in ourselves.
Read More
---
by Rmarshall @ globalene
Posted on Tue Oct 11, 2016
---
I had a dream that I was walking in a field of Rollinghills and I was on a path but I could see going over the hills as far as I could see in the distance , as I walked in I looked I have the warm sun beating down upon me and the high grass that was golden in color with the Single path that parted the seemingly never ending field Rollinghills and as I walked i started to see a man walking towards me way off in the distance and as I walked he walked .eventually we became closer and closer together when we finally met face-to-face it was Jesus and I Rich out towards him I immediately recognized this was the Lord Jesus as I reach for him he was angry he wouldn't let me touch him and he said to me I am disappointed in angry with you he turned to walk away and I've wanted ever since then Am I doomed to #heck#this is the side as my flesh consumes me and I won the path of Jesus I want him to hug me and hold me and tell me that I am his child but as I live day to day in this evil world i've become caught up in what most of us in day-to-day living live which is the devil's plan of demise please if you read my message believe it would've said because it is true and pray for me read that the Lord gives me strength to become a better person and I could help myself and others for that path but the Lord showed me to become righteous in a child of the Lord and then I can help others it to the afterlife and the way to heaven
Read More
---
by Elizabeth
Posted on Wed Nov 26, 2014
---
Two days ago I was praying and had a vision of Jesus offering me an apple, I go to take it and he throws it for me to "fetch" it (he tells me to fetch it and laughs! LOL), I go and get it but offer it back to him. Then today while praying I saw myself with him again and he offered me an apple but I just let him have it. I have many visions of Jesus while I pray. It makes me happy to see him with me. and he laughs a lot.
Read More
---
by Elizabeth
Posted on Sat Dec 30, 2017
---
That's terrific you got to see a path and to see Jesus walking towards you! I would encourage you to keep asking Jesus for the interpretation of this. He is first and foremost Love and everything He does is based on love! He loves you immensely and this dream was meant for you for whatever reason. Only Jesus and the Holy Spirit can give you the interpretation. Take an account of your life, where you've been, who you're hanging around with, your prayer life, your belief system. See what doesn't lead to Jesus or leads away from Him. Work on that part of your life. Get with a group of other believers who will help guide you and give you good advise. Don't give up on yourself. Jesus doesn't waste anything - even dreams- and this is meant for your teaching and growth. Be blessed!
Read More
---
by G
Posted on Fri Dec 29, 2017
---
Lord Jesus, In your Holy name, In the name of Calvary, In the name of your blood and what it stands for please help me and take the burdens of poverty, food and logistical needs, taxes, joblessness, electrical and heating, isolation and other disparities away from my life.... Jesus...all power has been given to you in heaven and in earth and I expect an answer from you that is according to your will and also that is exemplary of your true character....In Jesus name AMEN
Read More
---
by Walter
Posted on Sat Jul 15, 2017
---
No Jesus Christ does not love me or He would forgive me for turning my back on Jesus Christ right.
Read More
---
by george
Posted on Fri Dec 29, 2017
---
Walter...please collect yourself....Jesus Paid for your sins past present and future and he loves you with an everlasting love...stop basing his care for you on your circumstances....I live in a house without power now....and the future looks crappy....today I don't care....I praise the lord for what he has done to heal others and what Jesus has planned for this wicked nation and its power men who should repent certainly....May the PEACE THAT SURPASSES ALL UNDERSTANDING overcome you Walter in the name of Jesus....amen.....
Read More
---
by greg
Posted on Wed Sep 27, 2017
---
---
we offer all types of loans at 3% any interested personal should email us at info.wire*****ans @ gm with the following details
Read More
---
by George
Posted on Fri Dec 29, 2017
---
Praise the Lord forever.
Read More
---
by Julia
Posted on Thu Dec 28, 2017
---
I am waiting for Him to return! Even so come, Lord Jesus!
Read More
---
by Paul
Posted on Tue Dec 26, 2017
---
I hear many doubting that their prayers will be answered. That God doesn't hear their prayers. Sit down and get all thoughts out of your mind by closing your eyes
and not thinking so much. You can't solve the problem of thinking too much with more thinking. Quiet down and listen to the still voice within you. Go out and have some compassion for others. This is what will make you happy. You may say I don't even have compassion for myself, how can I have compassion for others.
You will have compassion for yourself by having compassion for others. It's just like learning to swim. You just jump in and do it.
Read More
---