Jesus Will Come - The Coming Of Our Lord Jesus Christ To Earth
This website is about the coming of our Lord Jesus Christ. Many people ask When Will Jesus Come back to earth for the rapture. The answer is very simple, no one know, not even the Son of God knows, But only God knows the exact time and date.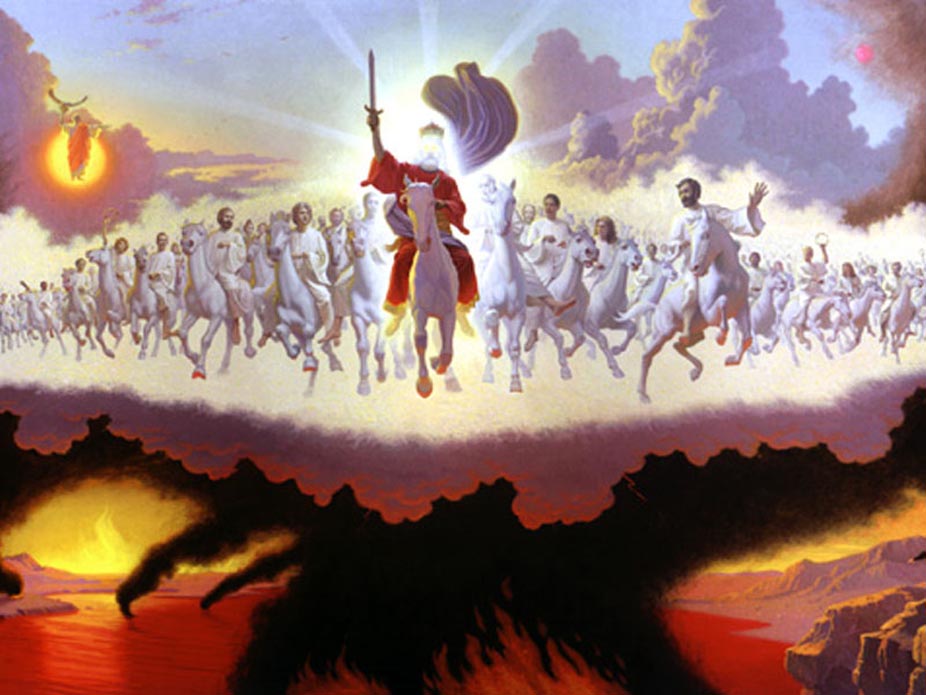 When Will Jesus Come?
Don't let anyone fool you. If someone tells you they know when Jesus Will Come, they are lying to you. Not even Jesus himself knows when he is coming back. The only one who knows the exact moment is God the father. Dont fall for false words. Many people may tell you they know, or they may say God talks to them and God has told them.. Don't believe, but you don't have to take my word for it. Look in your bible on Matthew 24:36 says: No one knows about that day or hour, not even the angels in heaven, nor the Son, but only the Father.
Why JesusWillCome.com?
You might be wondering, why create a website about the coming of Jesus? Well, the answer is simple. I believe the Lord called upon me to create this website to spread the word about the coming of Jesus. I wanted to give something back to Jesus. He has blessed me so much and I wanted to so something for him. But I am not a talented person. I am very shy. I admire those people who go out and preach the word to other strangers. I think it must take a lot of courage to do that. My mom once told me that God uses each individual according to their gifts, or their skills. I dont have those skills. My mother, she has the skill of just going to strangers and start a conversation. I would be proud of my mother when she would come home and tell me her experience when she would go out and when she come home, she would tell me how many people she had save. She called it 'Soul Winning' I admire her for that and i am very proud of her for that. I could not do that. But the Lord has blessed me with wisdom. Computer wisdom, that is. I started getting curious about how an internet web page works, soon I learn all the skills and bought the domain Jesuswillcome.com - originally, i wanted to get jesuswillcome.org, but it was already taken. So if you are wondering why jesuswillcome.com that is the reason. I hope you find good inspirational content on this website. if not, i would encorage you to leave your comments or perhaps write an article, you can write your own article in the 'Post New Topic' section above.
---
by Donna
Posted on Fri Feb 23, 2018
---
Lord Jesus Christ, I too will pray for all on this site for all kinds of reasons. I know that if all of unite in prayer it will be powerful and pleasing to you. Thank you for always being there for me a miserable sinner . I pray to you heavenly Father in Jesus sweet holy name AMEN
Read More
---
by Walter
Posted on Fri Feb 23, 2018
---
I need Jesus to guidance in my life can you pray that for me
Read More
---
by presley
Posted on Tue Oct 10, 2017
---
---
Please pray for me through Jesus Christ to get a Job
Read More
---
by Adisty
Posted on Tue Feb 20, 2018
---
February 20th 2018, It was my lucky date and a gift from God. I have never experienced this before in my life. I had a dream, in my dream i felt my body was like something coming out. It was like my spirit. And at the time i was standing out of nowhere in a dark place. I was totally scared, i thought i was dead already. Not long afterwards, i saw a man with a wave hair and there was bright light around Him and then He came up to me held my cheek with one hand and smiled at me. At that time, I was so terrified and i suddenly closed my eyes, cos i felt i wasn't ready and worthy to see Him. What i felt when He was touching my cheek, my heart felt so peaceful. After that, i bravely opened my eyes and asked Him, The Lord Jesus is that You? But, He didn't answer me, He just kept smiling at me. Soon, He just dissapeared.
Read More
---
by jas
Posted on Sun Jan 28, 2018
---
help !
so sick physically - body shut down -urgent need help with 3 healthy meals/day.
completely abandoned (except for JESUS) < mercy.
hope depleted,,,,only Faith sustains.
praying for person/place to heal @ &with = nourishment: diet and Fellowship!
so weak cant function.
need prayer answered(miracle) . need asst. = prayer of Righteous Person.
safe;clean;healt - by sunny/warm ocean private trust honest.
to regain strength clarity and restore destiny in JESUS' army.
all these have been raped from by satins minions .
i am very sensitive who "lays hands on" me - i use 2b the one people would ask for help ... in the name of JESUS!
now that i am bedridden alll have scorned me.
nothing in my life has been normal or even close to routine
and i embrace the supernatural.....JESUS!
i Love GOD. JESUS CHRIST is my LORD SAVIOR.
heal me JESUS,,,, THY Will Be Done,,,For THY Glory > Shalom
Read More
---
by Jeffrey
Posted on Tue Feb 20, 2018
---
Thank you for inspiring words from the most high and I know Jesus will see me through this...Amen
Read More
---
by Juan
Posted on Sat Feb 17, 2018
---
i need to upload my picture
Read More
---
by Juan
Posted on Sat Feb 17, 2018
---
need to upload picturee
Read More
---
by Juan
Posted on Sat Feb 17, 2018
---
I am a sixty three year old man that never got married and I am all alone now desperately looking for a good christian catholic woman so I can get married. I want to get married as soon as possible because I know that as I get older I am going to need someone to take care of of me and to love me as I will do the same for her. I am a native born american veteran of the us army. I am not a bad looking man 5'5 in height 135 pounds. Thank you God in Jesus name
Read More
---
by Loveujojo
Posted on Sun Sep 10, 2017
---
Dear Father and Lord Jesus. I pray for forgiveness for what I have done. I pray for forgiveness for taking what you you gave back to me for granted. I am sorry for my weaknesses and not being stronger for us and for not including you more in our lives. Please protect her and let her know that I love her. Please ease our hearts with the hope that we can reconcile and mend together with your help. Please keep hateful intentions away and keep the wicked from giving evil advice. I pray that it is your will for us to reconcile and be together as one again under your love. I ask in your name. Amen.
Read More
---
by Paula
Posted on Fri Feb 16, 2018
---
I am in position I never thought I would be in and I have a disability of chronic refractatory Bipolar Disorder 1. It has incapacitated me many times and hospital many times. I was or still married 36 years and my husband drinks at 5:00 everyday he has a life. He is a socialized and my son and him are always on each other side. The point is I don't belong anywhere or nobody cares about me. I want to die. My husband threaten and threatened me about divorcing me but never left the verbal abuse and emotional abuse continued. I was judged on my accomplishments in the house and told "I can see you are trying. I had to prove my worth to live in our relationship . He kept on and I left moved in with a widow who has had two strokes and dietbites. She abused me as a full time everything. I did everything for her and she drained me financially. I have caretaking crash. I can't go over there because I have a hard time doing tough love. My husband just cussed me out and told me to get out. I said no this is my house too. He is so easily angered expects a lot. And I pray that if the Lords will I could find someone who loves me and shares my love for Christ and be a friend, support me when things get tough with my illness remains calm and wants to be with me. I raised my kids and they side with him because of my past illness episodes that were made worse by my husband's emotional detachment. I don't know what to do please please Lord help me show me what or where to go where He wants me to be. I praise him for all he has blessed me with and if he wants me to give it all up please help me to hear your voice. I am 56 and starting school is a little old. I am not an appealing job recruit. Oh I pray my petitions Lord before praising you forgive me if my sins I love you my Father someone please respond to my pleas. Thank you for all. In Jesus's name amen. Paula broken hearted with a thron in my side like Paul and thru my weakness You are strong. So I want to live myself again. Oh thank you
Read More
---
by Pougai
Posted on Mon Oct 17, 2016
---
---
I need Jesus,coz i am a sinner
Read More
---
by jeffrey
Posted on Thu Feb 15, 2018
---
JESUS CHRIST WAS AND IS WHO HE CLAIMED TO BE!!! NO OTHER PERSON IN HISTORY DID AND SAID WHAT HE DID...ALL THROUGH THE OLD TESTAMENT WAS RECORDED OF HIM COMING,HE HIMSELF SAID YOU SEARCH THE TORAH FOR ETERNAL LIFE,THESE ARE THOSE WHO TESTIFIED ABOUT ME...PREDICTIONS GALORE,HIS DEATH AND RISING,JERUSALEM DESTROYED,SPOKE OF #heck#MORE THAN HEAVEN...MAIN MESSAGE FROM HIM IS REPENT!!!NO MATTER YOUR SUFFERING IN THIS WORLD,REPENTANCE OF SIN IS MOST IMPORTANT THING TO DO BEFORE WE DIE HERE..PLUS FORGIVNESS,HE SAID WITHOUT FORGIVNESS THERE WILL BE NO FORGIVNESS SO FORGIVE ANYONE YOU HAVEN'T FORGIVEN YET...AMEN.THE PASHAL LAMB,THE SACRIFICE FOR US MAKES HIM THE FUTURE JUDGE OF THE LIVING AND THE DEAD...AMEN,PRAISE HIS HOLY NAME,FATHER,SON AND THE HOLY SPIRIT...JEFF.G.
Read More
---
by James.
Posted on Thu Feb 15, 2018
---
I need a home for my family please guide me poor people arent allowed to have a comfortable. Life please help. Amen
Read More
---
by tooblessedtoobestressed
Posted on Thu Jul 21, 2011
---
"now the lord said to abram, %u201cgo from your country and your kindred and your father's house to the land that i will show you." - o god you who lead them to this land make a way for them; glorify yourself and manifest your power. we know that there is nothing impossible with you and nothing is too difficult for you. you are the same yesterday, today and forever. manifest your power and move on behalf of your people.
Read More
---
by jjblessed1
Posted on Thu Feb 15, 2018
---
Blessings to you Amen!
Read More
---
by frank
Posted on Sun Aug 13, 2017
---
I lost my drivers license on 09-04-2013, had to sell my $10,000 F-150 for $500 because I couldn't keep a plate on it, the apt. complex was going to tow it away. Then I had a stroke on 11-22-2015, then my right hip gave out & my Dr. had me admitted to a hospital for a bad blood clot in my left leg on 09-01-2016, I couldn't get a medical release to go back to work & then lost my job & medical insurance on 10-01- 2016. I'm $20,000 in debt. for not working the last year with $10,000 in medical bills too, I'm 58, no family & no such thing as friends to help me here in Michigan, I'm losing my apartment now, with winter coming I have nothing but suicide left ! ! ! , 500 aspirin, 120 sleeping pills, 1/2 gal of vodka, & a case of beer should do it, I hope I don't have to wake up & shoot myself with my 9mm. ! ! ! , I'm Praying to Great God Almighty and his Son Jesus Christ our Lord for a miracle of rescue & financial restoration /0\ . If not I should be dead within 7 to 10 days, I cant afford to live & go on any more ! ! ! , praying for a miracle, Frank David
Read More
---
by jeffrey
Posted on Mon Feb 12, 2018
---
to frank,sorry to hear of your circumstances,it is a hard thing your going through but don't give up faith and hope in god.....people blame god but is not his doing..it comes from below the bad things...you can do like i did in almost the same situation,first apply for social services,ie medicaid,food stamps etc..even one step further if you suffer from depression from all that has happened go to a pyschaiatrist get documentation for it then check into a hospital psy ward,then you go on the list for housing...if you want to live you'll do these things and don't feel bad about it...many people in this world even celebrities lose everything and do commit suicide this is up to you but god dosen't want people doing suicide its a sin..god is the giver of life,no matter how bad things are or get you can pull yourself out of it..and no you might not ever again have what you lost but have to keep going on anyway...your not the first or will be the last who has lost all....if i was in michigan i'd be your freind and help somehow,same thing here on long island,people are so self absorbed or g-a-y you can't make any freinds...i will pray for you frank....god bless..jeff.g.(56)
Read More
---
by Ann
Posted on Sun Oct 23, 2016
---
When I was five years old, I was sick a lot. I had seen the movie The Unsinkable Molly Brown and I was terrified of dying.Jesus appeared in my room and led me up a massive stairwell to heaven where I played with the angels all night. In the morning, Jesus led me back down the stairs and into my bedroom. I woke up.

In recent years, I have dreamed of Jesus where i told him that I love him and he told me that he loves me.
Read More
---
by Angela
Posted on Fri Feb 09, 2018
---
Lord keep me and my faith and mind only on you to get me thought this time of hard times.pleade send me help with all my fainacal worrys send it down to me right now.crying out help only you can. Aman
Read More
---
by I
Posted on Thu Feb 08, 2018
---
In my dream Jesus came from ship to earth and I start running by following him he was sitting insidw the bus at last least near the side it was located and near by Jesus one young boy is sitting near by him at left side and I ask at Jesus y I'm having more trouble in my life plz force me Jesus .that young called my name as shahin and I ask him how u know my name that boy said we from heaven so y we know you and your name .nd jesus said I forgive you from all your sin shahin.and he gave fish food and they both ate with me .and I left one fish I can't eat but jesus said don't waste that fish I provide 4idly for you with one fry fish and I said okie Jesus I'll do eat.after that they were gone .and I hear one voice it says tell this which I have shown yo to peoples.9/2/2018.morning 2:50am this dream time

Read More
---
by Shahin
Posted on Thu Feb 08, 2018
---
I had a dream that Jesus came from heaven by traveling through a big ship to earth he is running to a bus depot and I'm following him by calling his name and he is counting money with some young boy in a last seat bus at night .and that boy called up my name .nd he was at left side at jesua.I asks plz forgv me Jesus .he said I have forgive you from all sin and .he ate fish food with me .he said you will be hungry.and I omitted one fish and he said don't waste that fish ns he gave new fish fry with 4idly
Read More
---
by Jon
Posted on Tue Aug 29, 2017
---
I saw Jesus Christ in a dream. I came to him at an altar. He was very tall and very bright white. He was holding a dove in his hand. He said to me "You are going down the wrong path." "Come visit a church, they are waiting for you." "You need not be afraid, you are always welcome there." Then he released the dove from his hands. It was glowing very very bright white as it flew away. It was like staring into the sun it was so bright. Then Jesus said "Let the spirit guide you."
Read More
---
by laura
Posted on Wed Feb 07, 2018
---
hermosa oracion. dios es grande y ningun presidente y ningun govierno va a decider sobre mi dios. porque la ultima palabra la tiene dios padre y mi jesus.
gracias mi senor por no abandonarnos a mi a mi familia y mi gente bonita que cree en ti. te amo jesus
Read More
---
by Sylvia
Posted on Tue Feb 06, 2018
---
God sees beyond our faults and he meet our needs. I ask GOD to heal all of you, provide strong financial support, excellent health, emotional and social blessings to all of you. He lives and he is real. I don't know any of you, but we are all the same and he loves us. He saved me and he will save you. I ask of you just be still for a minute, forgive yourself, and let go of the past. Let go of past hurts that is related to past things, people, places, friends, jobs, trust in yourself and let God in. He knows your needs, talents, joys and your faith as small as the mustard seed. I love all of you and peace be still.
Read More
---