Jesus Will Come - The Coming Of Our Lord Jesus Christ To Earth
This website is about the coming of our Lord Jesus Christ. Many people ask When Will Jesus Come back to earth for the rapture. The answer is very simple, no one know, not even the Son of God knows, But only God knows the exact time and date.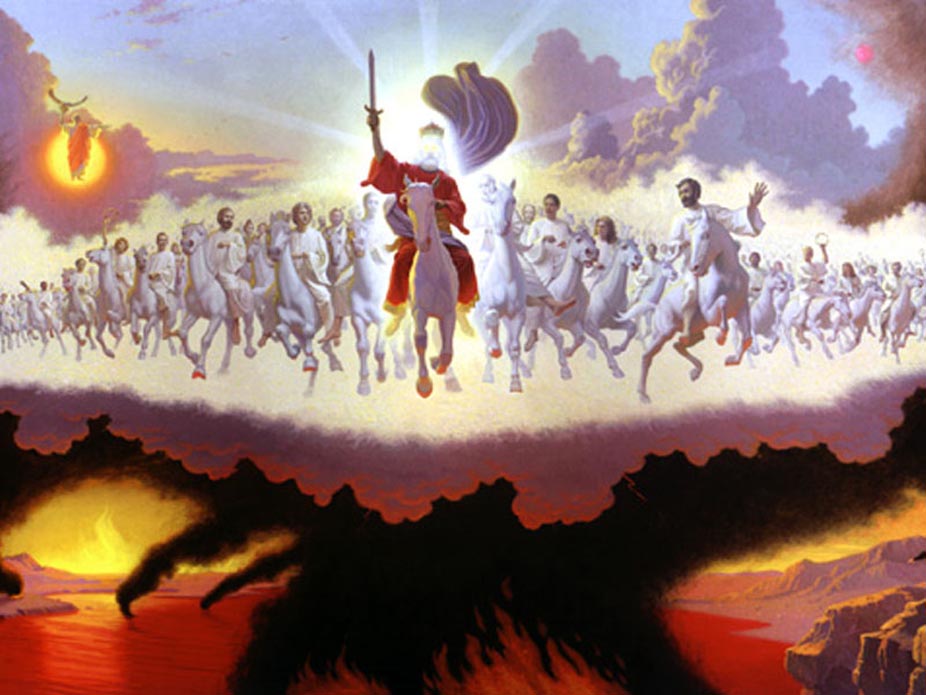 When Will Jesus Come?
Don't let anyone fool you. If someone tells you they know when Jesus Will Come, they are lying to you. Not even Jesus himself knows when he is coming back. The only one who knows the exact moment is God the father. Dont fall for false words. Many people may tell you they know, or they may say God talks to them and God has told them.. Don't believe, but you don't have to take my word for it. Look in your bible on Matthew 24:36 says: No one knows about that day or hour, not even the angels in heaven, nor the Son, but only the Father.
Why JesusWillCome.com?
You might be wondering, why create a website about the coming of Jesus? Well, the answer is simple. I believe the Lord called upon me to create this website to spread the word about the coming of Jesus. I wanted to give something back to Jesus. He has blessed me so much and I wanted to so something for him. But I am not a talented person. I am very shy. I admire those people who go out and preach the word to other strangers. I think it must take a lot of courage to do that. My mom once told me that God uses each individual according to their gifts, or their skills. I dont have those skills. My mother, she has the skill of just going to strangers and start a conversation. I would be proud of my mother when she would come home and tell me her experience when she would go out and when she come home, she would tell me how many people she had save. She called it 'Soul Winning' I admire her for that and i am very proud of her for that. I could not do that. But the Lord has blessed me with wisdom. Computer wisdom, that is. I started getting curious about how an internet web page works, soon I learn all the skills and bought the domain Jesuswillcome.com - originally, i wanted to get jesuswillcome.org, but it was already taken. So if you are wondering why jesuswillcome.com that is the reason. I hope you find good inspirational content on this website. if not, i would encorage you to leave your comments or perhaps write an article, you can write your own article in the 'Post New Topic' section above.
---
by Dave
Posted on Fri Oct 20, 2017
---
Jesus, please help me do the right things and make the right decisions in everything I do,Please keep my son safe and lead him closer to you.
Thank you Jesus.

Read More
---
by Walter
Posted on Tue Oct 17, 2017
---
I need Jesus Help to pay off all the bills I have to pay off ok
Read More
---
by David
Posted on Sun Oct 15, 2017
---
I had a 4 dreams about Jesus' return. what does it mean?
Read More
---
by
Posted on Sat Jan 21, 2017
---
I have been out of work for over eight months and I'm really needing a job I pray to God and I haven't got a job yet please help me 🙏 Please if you could let every person reading this please say a prayer for me I know you don't know me and I don't know you but I pray pray dear God to find me a job
Read More
---
by Merlin,
Posted on Fri Oct 13, 2017
---
Yes, dear, I will pray for both of us, as I need work to get me through the winter. We do not see God or the Angels but they are truly about us.
Read More
---
by Walter
Posted on Thu Oct 12, 2017
---
No Jesus Christ is not with me for I have been asking him to give me the HOLY Spirit and it is not happened so pray Jesus comes back in to me and makes his home in me ok
Read More
---
by presley
Posted on Tue Oct 10, 2017
---
---
Please pray for me through Jesus Christ to get a Job
Read More
---
by Wayne
Posted on Mon Aug 28, 2017
---
I screwed up my life so bad. I need Jesus. I don't know how to find him. I thought I had it all together; not even.
Read More
---
by God
Posted on Mon Oct 09, 2017
---
Ask God to come in.tell him you need him. just give it all to God because god is unsearchable he's already there have faith believe in him worship and serve him and he'll fix your every situation and make a better situation if it's of is will god loves you and will never leave you one forsake..REPENT AND ACCEPT JESUS CHRIST AND HE'LL COME IN GOD BLESS YOU.. WAYNE!!
Read More
---
by vinnett
Posted on Mon Oct 09, 2017
---
I saw him coming down from the sky(cloud) there was two of him one in human form and one in a status. What does that mean?
Read More
---
by Anita,Hernandez
Posted on Sat Oct 07, 2017
---
That sounds like to my way of living and so far I feel so alone I believe I
Read More
---
by DEARLY
Posted on Thu Oct 05, 2017
---
---
My daughter whose 1 & 9 months died last april due to open heart surgery because of heart failure, and since that day my life was ruined, and of today i fell like drowning of financial debt, i dont know wahat to do, where i get money to be free from debt and i am in trouble, double problem, i didn't yet overcome the loss of my child, the pain is always following me...
help me that God will erase all of this...when i am alone,i felt that i want to die but i am pregannat now.
Read More
---
by Secrets
Posted on Wed Oct 04, 2017
---
Thanks for straight answer and may god bless yo and your friend s and family peace be with you
Read More
---
by Ki
Posted on Mon Oct 02, 2017
---
Dear Lord,
I thank you for my phone interview today. I think it went well. I was asked to come in for a face to face tomorrow. I have messed up so many good jobs in the past. Help me not to make that mistake ever again. Provide me with your wisdom. Direct my path Lord. You know I need health insurance and I need to save for retirement. Lead me to my next job despite ALL my failures. You are so merciful and only you Lord can make a way and allow it to happen. I thank you in advance for giving me the job and the desires of my heart. These things I ask in the name of Jesus and according to his wiill. Amen.
Read More
---
by Amelia
Posted on Sun Oct 01, 2017
---
Ditto to what Linda is saying. I have also tried throughout my life to be something by earning my Masters degree in education. I go to church faithfully and I try to do what's right. I'm not envious of those that had an advantage to succeed in their life, however, why am I struggling so much and I worked very hard to get ahead. Thank you for reading my response and please help me.
Read More
---
by Pam
Posted on Mon Aug 07, 2017
---
I dreamed Satan was in room with me and all I felt was fear. I looked up and Jesus was there beside me. Of course Satan did flee. I felt such a peace when I woke up.
Read More
---
by Jennifer
Posted on Wed Sep 27, 2017
---
Hi well iam 13 and like 3 weeks ago i dreamed about jesus he was wearing cothing all white i was sitting down in my sis bed in the living room he was standing in front of me.at first we were talking having a good conversation and he was giving me advise but i dont rember nothing i just rember that at the end he was telling me something about hes father "god" then i woked up
Read More
---
by greg
Posted on Wed Sep 27, 2017
---
---
we offer all types of loans at 3% any interested personal should email us at info.wire*****ans @ gm with the following details
Read More
---
by Jon
Posted on Tue Sep 26, 2017
---
Lord Jesus,
Please protect me from all harm that people have been doing to me. I try so hard in my life to be the best I can, as you would want me to be. Please protect my heart and soul, from those who inflict heartaches in my life.

And please Lord Jesus most importantly, please protect my girlfriend Wendy and heal her fast from her operation she had not too long ago, so she can have a better tomorrow as I love her so much.

Thank you Lord Jesus for all you do for me and my Wendy, and being in my heart and my life...thank you!
Read More
---
by John
Posted on Sat Aug 26, 2017
---
I pray for steady full time employment. I wait tables at night while searching for an office position for the daytime. I have literally sent hundreds of resumes & been on countless interviews. I have a wife & a 7 year old daughter. My wife is very successful in her career. However, with my unemployment & underemployment it has created great strain & heartache in our lives. I spend a lot of time with our daughter & take care of the house & errands. Still being a man at 51 years old with a college degree & a clean background I still have immense trouble getting hired. Please, pray for me and my family have mercy on me lord. I only want honest work & honest pay. I ask this in your holy name. Amen
Read More
---
by Jenny
Posted on Sun Sep 24, 2017
---
LORD JESUS CHRIST please help me in my work. As I serve You in this work. thank you so much. We LOVE You with all my HEART

Read More
---
by Kat
Posted on Thu Sep 21, 2017
---
On september 19th 2017 as I slept I had this dream, the truly evil people were descending into #heck#and there were 12 suns surrounding the earth, when I went out side to find my boyfriend I saw a man I swore to be Jesus, he said to me "do not worry everything will be at peace, as long as I am here everything will work itself out" and it's really been sticking with me, if anyone has had a similar dream please explain what you saw and if anyone has answer I am all ears... thank you
Read More
---
by John
Posted on Thu Sep 21, 2017
---
I am scared because I feel something and I can't stop thinking of Jesus second coming I am extremely pre occupied with my work and I love Jesus a lot , I just don't know how to deal with those feelings but I keep praying that he will take me and my family at the rapture

Read More
---
by sid
Posted on Sat Sep 16, 2017
---
I need a good government job
Read More
---
by Wilson
Posted on Sun Jul 12, 2015
---
I am kind of like that Lewis guy who posted on here. I gave God my heart, soul, time and effort for many years. I prayed to him to find someone and still nothing after over 20 years. I actually quit church over it because I felt more depressed going there and seeing all the happy couples.I am not a bad looking guy either. Now it's too late for me to be a father and I will never get to experience that. This is why people leave Christianity...All these promises about how God loves you and Jesus saying "When Many Gather In My Name and Request Through Prayer They Shall Receive." Didn't work for me. I could care less anymore. Feel like I wasted my time serving the Lord and maybe should have taken another path. Sorry folks, that's just how I feel and I am being brutally honest.
Read More
---