Jesus Will Come - The Coming Of Our Lord Jesus Christ To Earth
This website is about the coming of our Lord Jesus Christ. Many people ask When Will Jesus Come back to earth for the rapture. The answer is very simple, no one know, not even the Son of God knows, But only God knows the exact time and date.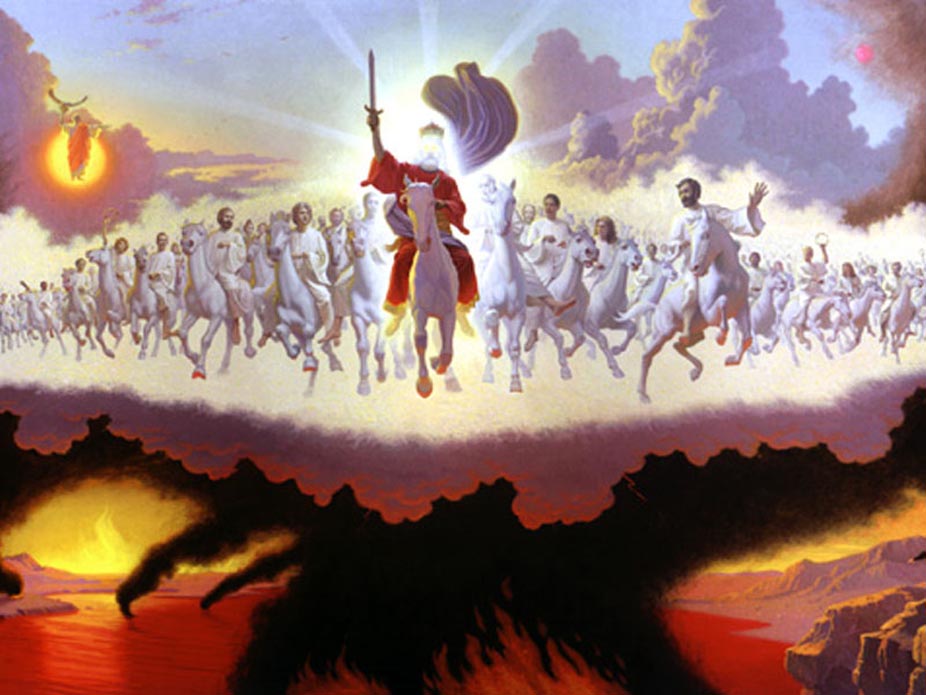 When Will Jesus Come?
Don't let anyone fool you. If someone tells you they know when Jesus Will Come, they are lying to you. Not even Jesus himself knows when he is coming back. The only one who knows the exact moment is God the father. Dont fall for false words. Many people may tell you they know, or they may say God talks to them and God has told them.. Don't believe, but you don't have to take my word for it. Look in your bible on Matthew 24:36 says: No one knows about that day or hour, not even the angels in heaven, nor the Son, but only the Father.
Why JesusWillCome.com?
You might be wondering, why create a website about the coming of Jesus? Well, the answer is simple. I believe the Lord called upon me to create this website to spread the word about the coming of Jesus. I wanted to give something back to Jesus. He has blessed me so much and I wanted to so something for him. But I am not a talented person. I am very shy. I admire those people who go out and preach the word to other strangers. I think it must take a lot of courage to do that. My mom once told me that God uses each individual according to their gifts, or their skills. I dont have those skills. My mother, she has the skill of just going to strangers and start a conversation. I would be proud of my mother when she would come home and tell me her experience when she would go out and when she come home, she would tell me how many people she had save. She called it 'Soul Winning' I admire her for that and i am very proud of her for that. I could not do that. But the Lord has blessed me with wisdom. Computer wisdom, that is. I started getting curious about how an internet web page works, soon I learn all the skills and bought the domain Jesuswillcome.com - originally, i wanted to get jesuswillcome.org, but it was already taken. So if you are wondering why jesuswillcome.com that is the reason. I hope you find good inspirational content on this website. if not, i would encorage you to leave your comments or perhaps write an article, you can write your own article in the 'Post New Topic' section above.
---
by jesus
Posted on Wed Oct 17, 2018
---
lord god im still waiting for your response on my prayers i hope that you will answer them soon thank you
Read More
---
by joyce
Posted on Tue Oct 16, 2018
---
looking for a good paying job have phd
Read More
---
by someone
Posted on Mon Oct 15, 2018
---
my head is going to explode help

Read More
---
by olivia
Posted on Mon Oct 15, 2018
---
i pray god shows you mercy and sends his angels to surround you
Read More
---
by kevin
Posted on Fri Oct 12, 2018
---
i need help with my addiction and know you r you are with me i can do this with your help
Read More
---
by michael
Posted on Thu Oct 11, 2018
---
please jesus save jolie from cancer
Read More
---
by michael
Posted on Thu Oct 11, 2018
---
i need my 17 year old grand daughter to fight and stop her cancer
Read More
---
by john
Posted on Tue Oct 09, 2018
---
just need to talk
Read More
---
by john
Posted on Sun Oct 07, 2018
---
it was just last night this happened which is what brought me to this page i was really depressed and going through a hard time with my love one i was a former pothead and just in general made bad decisions and was straying so much farther from god so last night i decided to drink and i did, i drank a bottle of bailey's until i couldn't walk straight and then passed out on my bed then in my dream he was there like any normal man but you could just feel his aura floating over you i tried to talk to him but i couldn't make out words and just cried and he looked at me with a look like "it will all be ok" and it just blew me away cause thinking about it now i still feel this presence like it was really him there and now i am left with a new found desire for peace but also left with fear
Read More
---
by elijah
Posted on Thu Oct 04, 2018
---
dear jesus, please help me, you already know what i want so i do not need to say you know everything so please help me please don't let my faith lost in you
Read More
---
by sharone
Posted on Tue Oct 02, 2018
---
1022018
i had a dream about jesus, i was walking in a crowd, something made me look up, and i saw jesus, ascending to the heavens i smiled and waved, he waved back, but he didn't want anyone else to see him but me as i thought about the dream later that day i was overwhelmed with joy, i cried, because on a regular basis i journal to god i have written over 5,600 pages to god talking about everything and i mean everything everything i do , where i go, i invite him to be with me yes that's how much i love and worship him and what he stands for in my life i have my own interpretation of the dream his waving back lets me know that he hears me when i pray, journal, or just saying hello throughout the day thanks jesus for waving back

Read More
---
by Edward
Posted on Sun Dec 31, 2017
---
I had a dream about a week ago.It was super beautiful jesus was next to me and my mother and he said to me that he is travelling to each planet in the universe and show me in my mind what planets he was going next.The planets were much similar to ours but different colors of vegetation and water. Then he show us a white radiant rod he was holding im his hand and told us he uses the power of that rod to travel to other planets.Me and my mother were so happy we spoke with him and we started laughing with jesus about hiw amazing his power is.I also mention that he spoke to us mentally ,he never open his mouth to speak.When i wole up i knew that wherever he is ,he is always everywhere when we need him to guide us in our needs and wishes.Personally i think that jesus is our friend when we have faith in ourselves.
Read More
---
by SEAN
Posted on Mon Feb 06, 2017
---
PLEASE GOD HELP ME FIND THE WOMEN WHO IS THE DESIRES OF MY HEART TO MARRY. TO STAND BY MY SIDE. TO LIFT ME UP WHEN I AM DOWN. TO START A FAMILY, AND GUIDE THAT FAMILY ALWAYS TOWARDS YOU FATHER. PLEASE GOD, LORD JESUS CHRIST BRING HER SO SOON. I CRY ALMOST EVERY NIGHT TO YOU LORD. PLEASE HEAR MY PRAYER FATHER GOD. LORD OF HEAVEN ON EARTH. CREATER OR ALLL THINGS. LORD AND MASTER. PLEASE FORGIVE ME OF MY SINS AND WRONG DOINGS AND EAKNESSES. BLESS ME FATHER WITH THE WOMEN TO LOVE, CHERISH, AND ADORE. PLEASE FATHER ANSWER MY PRAYER. PLEASE GOD I BEG OF YOU. IN THE NAME OF YOUR MOST PRECIOUS SON JESUS CHRIST, I PRAY.
Read More
---
by christine
Posted on Sun Sep 23, 2018
---
i had a dream about jesus last week he was standing at the end of a paved path his back was facing me he stood in a long white robe & knelt down to kiss the ground i was calling his name & crying it was such a powerful dream! i feel blessed a few days after my dream my son had an atv crash wearing no helmet the atv flipped on top of him & slid off he has a few brush burns & sore ribs i believe jesus saved his life!
Read More
---
by jinna
Posted on Sat Sep 29, 2018
---
lord jesus, thank you for helping and guiding me in my work today again lord god, i wish to repeat my prayers to you to please grant it thank you again lord jesus
Read More
---
by mike
Posted on Sat Sep 29, 2018
---
thank you it's all i got
Read More
---
by inna
Posted on Thu Sep 27, 2018
---
lord jesus, i am very sorry for what i have done in my life please forgive me please enlighten me and help me overcome my problems
Read More
---
by jesus
Posted on Mon Sep 03, 2018
---
lord jesus, i woke up this am and thinking about suicide methods i even browsed the internet for the easiest way to end a life i don't know why is this happening please, i need your help and guidance
Read More
---
by olivia
Posted on Wed Sep 26, 2018
---
thank you, i'll pray for you as well
Read More
---
by ian
Posted on Wed Sep 26, 2018
---
dear hevanly farther pleas help my famly and my self as you have helped so maney befor i love you dear god and my brother jessus thank you so much for your love amen
Read More
---
by jesus
Posted on Tue Sep 25, 2018
---
olivia,
i will always include you in my prayers i believe that god will respond to our prayers
Read More
---
by Administrator
Posted on Sat Apr 18, 2009
---
en que libro de la biblia estan los diez mandamientos?
Read More
---
by jesus
Posted on Mon Sep 24, 2018
---
lord jesus, im still waiting for your forgiveness and blessings
Read More
---
by william
Posted on Wed Sep 28, 2016
---
Dear heavenly Father...
We humbly come before you and ask for strength and direction. We come to you broken in spirit, many of us broken physically as well. We ask for healing Father, we ask for a blessing of healing from the crowns of our heads to the soles of our feet. We thank you for your provision Father, as the name Adonai carries that of the good shepard, providing and protecting his flock. YHWH, you truly are sovereign and are in control of all things. We can trust that you allow anything that comes into our lives as something you will use to benefit us and bring glory to your name according to your purpose.Father, I ask in your holy name to bless these people on this message board, each individual here, your very children, bless each and everyone with your grace and mercy and loving kindness. Every last one of these men and women have come here seeking grace, forgiveness and guidance from your Holy Spirit. Each one having individual, personal issues and problems in which they are seeking your loving intervention. The very fact each person here has sought your word Lord, is a clear indication they have been drawn by you, drawn to seek truth and answers. You say to seek and you shall find, and so they seek and will find...you say ask and it will be given, and so they ask and can be confident it will be given...you say to knock and it will be opened, and each one of these brothers and sisters are knocking, and I believe it will be opened to them, their hearts and souls opened to receiving your awesome love and presence...Father, we thank you for sending your son to die in our place for our sins, for raising him from the dead and for drawing us all to yourself in Christ, that as we live our lives in Him, and Him in us, we can accomplish your will and bring glory to your name. My prayer is for all who are here seeking your Truth, that you will answer each individual prayer and need in a profound way as to bring an obvious revelation of your love and feeling of comfort to us all, wrapping us in your loving arms and strengthening our faith and desire and need for you...I pray this in Jesus' majestic name...amen
Read More
---
by Millie
Posted on Fri Oct 14, 2011
---
Yes I believe god is a powerful God. I myself have a testimony driving one rainy day after work to visit my parents with my two little girls on the back seat. a van coming down on the opposit side drunk came at me so fast hitting my small car and turning it upside down and thrown nearly to the next block. my two daughters as I looked back both covered in blood, both asleep, one had her face completely destroyed with the window glass right on her skin and her eyeball hanging out, the other one with just blood coming out of her mouth, my thoughts then was** I lost both of my kids** I said ** God please let my children live... everyone on the site thought they both died, we went to the hospital,, my family and me made a chain of prayer in the emergency area.. when all of a sudden I heard the youngest one crying out for her pacifier, and I ran inside, Doctors said no internal damages, they didnt even know where the blood came from,,,, the oldest one needed facial surgery and her arm was broken in two places but was expected to recover, and her eye that was completely damaged at the accident,,, is 100% normal,,, now she is 25 years old and that scar of the accident is gone just a slittle scratch, and her eye sight normal, they both are ok.... this is the power of God, needed to share this also with you
Read More
---