Jesus Will Come - The Coming Of Our Lord Jesus Christ To Earth
This website is about the coming of our Lord Jesus Christ. Many people ask When Will Jesus Come back to earth for the rapture. The answer is very simple, no one know, not even the Son of God knows, But only God knows the exact time and date.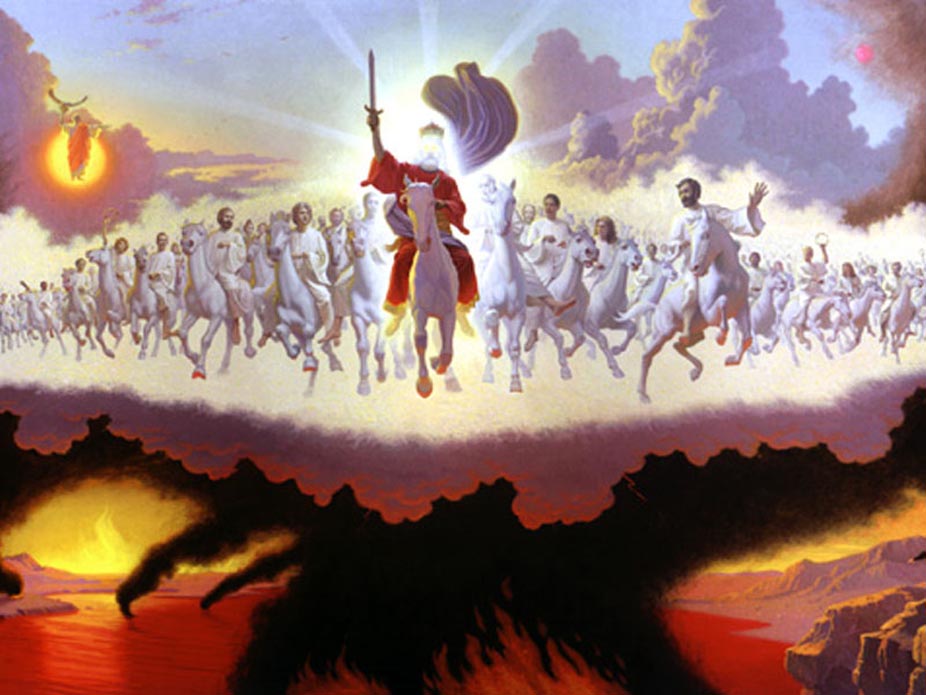 When Will Jesus Come?
Don't let anyone fool you. If someone tells you they know when Jesus Will Come, they are lying to you. Not even Jesus himself knows when he is coming back. The only one who knows the exact moment is God the father. Dont fall for false words. Many people may tell you they know, or they may say God talks to them and God has told them.. Don't believe, but you don't have to take my word for it. Look in your bible on Matthew 24:36 says: No one knows about that day or hour, not even the angels in heaven, nor the Son, but only the Father.
Why JesusWillCome.com?
You might be wondering, why create a website about the coming of Jesus? Well, the answer is simple. I believe the Lord called upon me to create this website to spread the word about the coming of Jesus. I wanted to give something back to Jesus. He has blessed me so much and I wanted to so something for him. But I am not a talented person. I am very shy. I admire those people who go out and preach the word to other strangers. I think it must take a lot of courage to do that. My mom once told me that God uses each individual according to their gifts, or their skills. I dont have those skills. My mother, she has the skill of just going to strangers and start a conversation. I would be proud of my mother when she would come home and tell me her experience when she would go out and when she come home, she would tell me how many people she had save. She called it 'Soul Winning' I admire her for that and i am very proud of her for that. I could not do that. But the Lord has blessed me with wisdom. Computer wisdom, that is. I started getting curious about how an internet web page works, soon I learn all the skills and bought the domain Jesuswillcome.com - originally, i wanted to get jesuswillcome.org, but it was already taken. So if you are wondering why jesuswillcome.com that is the reason. I hope you find good inspirational content on this website. if not, i would encorage you to leave your comments or perhaps write an article, you can write your own article in the 'Post New Topic' section above.
---
by Patricia
Posted on Sun Apr 30, 2017
---
For a great witness
Read More
---
by jesusviene
Posted on Sat Sep 19, 2009
---
dios es el mejor

se escribe:

"god is the best"
Read More
---
by Anibal
Posted on Thu Apr 27, 2017
---
Porque tambien quiero aprender ingles
Read More
---
by Walter
Posted on Tue Apr 25, 2017
---
I am a man that gave my life to Jesus Christ but turned my back on Him so now He does not here my prayer of forgiveness so help me on this if you will pray for Walter Taylor that Jesus Christ forgive me for turning my for turning my back on Him ok. This is my email address w a l t e t t a y l o r 3 4 @ Google
Read More
---
by Walter
Posted on Thu Mar 30, 2017
---
I turned my back on Jesus Christ and now He does not hear my prayer so ask Him to here my prayer so He can here my prayer of forgiveness ok
Read More
---
by Walter
Posted on Fri Apr 21, 2017
---
I need prayer for my self
Read More
---
by Walter
Posted on Fri Apr 21, 2017
---
I was with Jesus Christ even had Him talking to me but I turned my back on Jesus Christ now I can not get Him to here my prayer of forgiveness so if you will pray my Christ Jesus to forgive my so He will here me ageen
Read More
---
by Darrin
Posted on Thu Apr 20, 2017
---
I think im dying please save me lord
Read More
---
by Carolyn
Posted on Thu Apr 13, 2017
---
I want to win not only for myself but to help my four sisters and my Church. My Church will help those people who need it and my donation will help the Church with that.
Read More
---
by
Posted on Tue Apr 11, 2017
---
I just got out of a 5 year relationship with a man. And realized that was not the life that God had intended for me. I am the oldest in a family of 5. All of my siblings are married and habe children. I am apporaching 30 soon and I would love for the Lord to bless me with a good godly wife. Alot of women wouldnt take the risk of dating someone like me because of my past lifestyle. However, i rubuked the past and i want to focus on the future. Christ has blessed me in so many ways. He helped me become a deacon of a church, he helpled me when I was homeless, Jesus repaired a broken relationship i had with my parents for 20 years, he has blessed me with a good job, and even blessed me with a roof over my head. On my free time away from work i do volunteer work for the homeless shelter. Even though my life has gotten busy recently I do admit i feel very lonely when i come home from work and there is bo one there but myself. I think im a good looking man who possess alot of great qualities. I cry ever night before i fall asleep and hug my bible before I go to bed. I would love all of my brothers and sisters to pray for Jesus to bless me with a great woman that will build me up and has a godly covenant with me. Through Christ Jesus name. Amen
Read More
---
by Fitz
Posted on Sun Sep 14, 2014
---
i had a vivid dream where i found myself sitting with other\'s on a marble floor and jesus was speaking to us.
jesus then allowed people to ask questions, after raising my hand i was able to ask a question after a couple of others had. i asked jesus why people who never had a chance to read the bible and accept jesus christ as their lord as savior as stated in the
bible go to hell?
his expression changed and he raised his voice and said or shouted at me\" how do you know?
he stared into me eyes as answered me, i just shut my mouth and bowed my head and he took another question and i remember waking up and never forgetting this experience because it was real, jesus had given me a perfect answer.
Read More
---
by God
Posted on Wed Oct 12, 2016
---
I love the Lord but I have a drug problem that just won't stop. I'm still young. Why can't I just feel good without it? I don't want to continue this way. I just want to be content without drugs. I want someone to love me as much as I would love them. (Not talking about the Lord's love here.). I just need help. I've tried everything to quit. Please just take it from me and if it's not too much to ask I would really appreciate a soul mate.
Read More
---
by Carolyn
Posted on Thu Nov 10, 2016
---
I don't just want to win for myself although I need money, too. But I need to help my four sisters who are desperately in need of money! I also want to help my Church because the funds they get are used to help others in our Church and /or our neighborhood. When I had money I bought a car for one of my sisters, and the other three sisters I bought houses for them. Now, I have no more money and I still need to help them. Trouble is, I'm not well and I'm out of money. This is the reason I would like to win this money. My sisters need help, my Church needs money and I need money. So, please Dear God help me to win. Please
Read More
---
by Wilson
Posted on Sun Jul 12, 2015
---
I am kind of like that Lewis guy who posted on here. I gave God my heart, soul, time and effort for many years. I prayed to him to find someone and still nothing after over 20 years. I actually quit church over it because I felt more depressed going there and seeing all the happy couples.I am not a bad looking guy either. Now it's too late for me to be a father and I will never get to experience that. This is why people leave Christianity...All these promises about how God loves you and Jesus saying "When Many Gather In My Name and Request Through Prayer They Shall Receive." Didn't work for me. I could care less anymore. Feel like I wasted my time serving the Lord and maybe should have taken another path. Sorry folks, that's just how I feel and I am being brutally honest.
Read More
---
by Sheila
Posted on Fri Apr 07, 2017
---
Brother, I hope you found your way back. We go to church for God and for relationship with our own hearts to him. Also, there are many children that could use a mentor. There is adoption. I pray the Lord heal your heart. I lost my husband and my child. I am thankful for my hope that I will see them again. It is Him that is sustaining me. I don't know how anyone could make it in this life without him. Bless you brother in your journey. May his love fill your heart and mend the brokenness. Always remember, with him, you're never alone.
Read More
---
by Ryan
Posted on Mon Mar 20, 2017
---
Jesus please save my marriage
Read More
---
by Blaine
Posted on Thu Apr 06, 2017
---
I need your help and guidance in my life, dear jesus. I need work, health and to listen to you more closely. I know you already made the ultimate sacrifice for us. Thank you. Amen
Read More
---
by Robert
Posted on Wed Apr 05, 2017
---
MAY JESUS, MY LORD AND SAVIOR GUIDE ME TODAY. I LOVE YOU, JESUS, my best friend forever!
Read More
---
by william
Posted on Wed Sep 28, 2016
---
Dear heavenly Father...
We humbly come before you and ask for strength and direction. We come to you broken in spirit, many of us broken physically as well. We ask for healing Father, we ask for a blessing of healing from the crowns of our heads to the soles of our feet. We thank you for your provision Father, as the name Adonai carries that of the good shepard, providing and protecting his flock. YHWH, you truly are sovereign and are in control of all things. We can trust that you allow anything that comes into our lives as something you will use to benefit us and bring glory to your name according to your purpose.Father, I ask in your holy name to bless these people on this message board, each individual here, your very children, bless each and everyone with your grace and mercy and loving kindness. Every last one of these men and women have come here seeking grace, forgiveness and guidance from your Holy Spirit. Each one having individual, personal issues and problems in which they are seeking your loving intervention. The very fact each person here has sought your word Lord, is a clear indication they have been drawn by you, drawn to seek truth and answers. You say to seek and you shall find, and so they seek and will find...you say ask and it will be given, and so they ask and can be confident it will be given...you say to knock and it will be opened, and each one of these brothers and sisters are knocking, and I believe it will be opened to them, their hearts and souls opened to receiving your awesome love and presence...Father, we thank you for sending your son to die in our place for our sins, for raising him from the dead and for drawing us all to yourself in Christ, that as we live our lives in Him, and Him in us, we can accomplish your will and bring glory to your name. My prayer is for all who are here seeking your Truth, that you will answer each individual prayer and need in a profound way as to bring an obvious revelation of your love and feeling of comfort to us all, wrapping us in your loving arms and strengthening our faith and desire and need for you...I pray this in Jesus' majestic name...amen
Read More
---
by Martha
Posted on Tue Sep 06, 2016
---
I praise you Father God, love you and thank you for Jesus and all you've always done for me and my family and are still doing for us today. I love you with all my heart! You've kept your promises in your word to my family & I all our lives. Please continue to do this for us. May we all have a deep relationship with you all the days of our lives - my children, grandchildren, siblings & their children/grands, and myself. As Your word says, please make the crooked paths straight, keep us from temptation and evil, keep us close to you, and work out all things together for our good. Let Your perfect will be done in our lives as we stay very close to You by reading Your word daily, spending quality time with You daily in prayer (having that true relationship with you), worshiping You (as You dearly deserve daily), and just simply sitting at your feet daily in order to listen and hear from You, our loving Father. Help us Lord Jesus with ALL our problems, burdens, desires, and deep needs, for we lay them down before You as You tell us to do in Your word. And we will surely be careful to give You ALL the glory, honor and praise due Your wonderful and matchless name. Amen!
Your beloved child, Martha
Read More
---
by Robert
Posted on Sun Apr 02, 2017
---
JESUS PLEASE HEAL CATHY'S EYES BY THY POWER AND MERCY. ROBERT HART
Read More
---
by Ashley
Posted on Fri Mar 11, 2016
---
I dreamt I was riding in a car on a winding black paved road. I saw my cousin(who is deceased). I yelled for the driver to stop. They wouldn't. My cousin waved her arm as if she was telling me to keep going. I was so sad. Then a huge flood came. I was drowning. I was terrified. Then I felt arms around me holding me like a baby and I hear a voice as clear as day telling me to breathe. And I thought the words I can't. I heard the voice tell me to trust him. And he said again, breathe. So I did. And I was pulled from the water. I saw His face. It was Jesus and I held him tight as He told me everything is going to be alright.His mouth never moved. I will never forget the emotions I felt while having this dream. I woke up and cried. I still get teary eyed and chills when I think about and talk about it. I will cherish it forever. He is Alive. He is coming back for us.
Read More
---
by Jontjue
Posted on Wed Mar 29, 2017
---
Jesus came to me trying to hand me a box of light but someone was holding me back- he held a beautiful box with beautiful hands with light beaming out of it- he kept saying here- take it- but as I said I couldn't get to it- someone was holding me back - I was crying and flailing my arms- what does this mean- Jo n t j u e @ aol dot com
Read More
---
by Maria
Posted on Wed Mar 29, 2017
---
Muchas gracias por resumir los mandamientos, buen trabajo.
Read More
---
by Ann
Posted on Mon Mar 27, 2017
---
I need help with the mourning and grieving of my brother's suicide. I need help with my mother's advanced Alzheimer's and I need help with my boyfriend who is in late stage brain cancer. I also need help financially and need a home . The stress of wondering if I will be homeless while dealing with all of this pain is too much for me God. Send Jesus into my
Life now and never let him leave. Please forgive me of all my sins and save me Jesus.
Read More
---