Jesus Will Come - The Coming Of Our Lord Jesus Christ To Earth
This website is about the coming of our Lord Jesus Christ. Many people ask When Will Jesus Come back to earth for the rapture. The answer is very simple, no one know, not even the Son of God knows, But only God knows the exact time and date.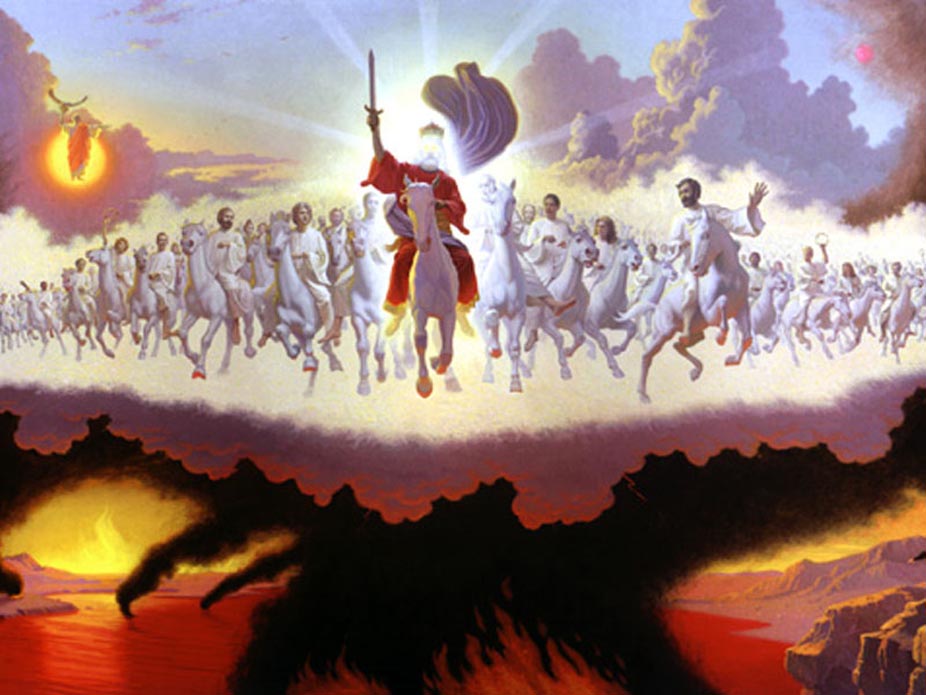 When Will Jesus Come?
Don't let anyone fool you. If someone tells you they know when Jesus Will Come, they are lying to you. Not even Jesus himself knows when he is coming back. The only one who knows the exact moment is God the father. Dont fall for false words. Many people may tell you they know, or they may say God talks to them and God has told them.. Don't believe, but you don't have to take my word for it. Look in your bible on Matthew 24:36 says: No one knows about that day or hour, not even the angels in heaven, nor the Son, but only the Father.
Why JesusWillCome.com?
You might be wondering, why create a website about the coming of Jesus? Well, the answer is simple. I believe the Lord called upon me to create this website to spread the word about the coming of Jesus. I wanted to give something back to Jesus. He has blessed me so much and I wanted to so something for him. But I am not a talented person. I am very shy. I admire those people who go out and preach the word to other strangers. I think it must take a lot of courage to do that. My mom once told me that God uses each individual according to their gifts, or their skills. I dont have those skills. My mother, she has the skill of just going to strangers and start a conversation. I would be proud of my mother when she would come home and tell me her experience when she would go out and when she come home, she would tell me how many people she had save. She called it 'Soul Winning' I admire her for that and i am very proud of her for that. I could not do that. But the Lord has blessed me with wisdom. Computer wisdom, that is. I started getting curious about how an internet web page works, soon I learn all the skills and bought the domain Jesuswillcome.com - originally, i wanted to get jesuswillcome.org, but it was already taken. So if you are wondering why jesuswillcome.com that is the reason. I hope you find good inspirational content on this website. if not, i would encorage you to leave your comments or perhaps write an article, you can write your own article in the 'Post New Topic' section above.
---
by berto
Posted on Tue Apr 26, 2011
---
god says. though shall not steal. yet you steal from all of america. go home and rebuild your counntry you coward.
Read More
---
by Robert
Posted on Sat Aug 19, 2017
---
I have had 2 dreams of Christ. The first was a nightmare. Jesus was as tall as a mountain. The skies were dark and glowing red in color. He was scaning in the woods with these beams of light coming out of his eyes. As he scanned the forest you could hear a swooshing sound it made. Then you could hear crashing and people screaming and crying in the forest. I saw this from a distance I would say of about a mile. When that happened I took off running away and hide behind and old fallen tree that looked like it was 200+ years old but all rotted out.

The other dream I had I was running down the street because I had heard he had returned and was on the next block. I was having a hard time seeing the sidewalk though like I was partially blind. I just know I was making my way as best I could crying my eyes out.

Kind of odd dream though. I had this dream before my accident and I am now partially blind.

If anyone is interested in this. I have found out how big the size of the Kingdom of Heaven his. The New Jerusalem. Its not some floating city in the clouds. This thing I do not think could even land on our planet. The address is www dot fbyasteroids dot com/images/star_of_bethle

Be prepared ... Jesus Saves !!!
Read More
---
by norma
Posted on Thu Jun 21, 2018
---
dear lord,give me the knowledge and power to start a brand new lifemy soul mate accused me of wrong doing and it hurt,i need him in my life and he refused to be with mei need a new beginning and forget about my past

Read More
---
by joe
Posted on Mon Jun 18, 2018
---
i have dreamed of jesus many times since 1996 i talk about some of them in books that i have written one book is called "boxes from heaven" if you would like a copy of it get hold of me through face book and i will send you a copy i promise it will get your attention

Read More
---
by Teleile
Posted on Wed Jun 10, 2015
---
What wonderful dreams here, I have enjoyed reading them all!

I see Jesus in dreams, and sometimes while awake. He is usually sad at the state of humanity.

Years ago, when I started meditating, I was startled to see a figure standing behind everyone. Well, everyone I knew, I can't say whether everyone in the world. He stood behind and a bit taller than them, looking down sadly. I knew it wasn't the person's guardian angel, as each person's angel looks a bit different, whereas this figure was always the same. I felt: It's Christ. He looked nothing like the bearded picture we all get shown from childhood, though!

Some years later, I was fascinated to see the wooden model of Christ made by the clairvoyant, Rudolf Steiner. He looked exactly like the figure I see.


rudo has blue eyes and reddish-brown (auburn) hair.

The handsome bearded man is a kind of chinese whispers misrepresentation which, because it's been repeated so often, people believe must be true. When people have visions of Jesus, it's not that they're wrong. He is there, but they're seeing Jesus's appearance as their minds think it should be. The real Jesus Christ is not handsome. "He hath no form nor comeliness; and when we shall see him, there is no beauty that we should desire him."

He stands behind people, knocking at the door, sadly, because they won't let Him in.
Christ's voice is the conscience; at first it's not an audible voice, it's just the faint thought you have, for instance, that you should stop and give that homeless man something. Every time you ignore it (you walk on by, ignoring the hungry man), you put up another layer between you and Christ's voice, until you don't even have the faint 'thought' any more.
When you listen to your conscience, you become able to hear it more and more clearly, until it becomes an actual audible voice; not heard in your head, or 'around' you in space, but located in your chest in the heart area.

When people listen, then Christ, instead of standing behind someone, moves into and merges slowly with them: 'Not I, but Christ in me.' He sups with you, and you with Him. He gets to share in your life, and helps you with even your most mundane problems and questions. He now has a pair of arms and hands - yours - to work on Earth. And you share in His life; you experience the joy of living in the spiritual kingdom, while you are here walking around on earth.

Read More
---
by SEAN
Posted on Mon Feb 06, 2017
---
PLEASE GOD HELP ME FIND THE WOMEN WHO IS THE DESIRES OF MY HEART TO MARRY. TO STAND BY MY SIDE. TO LIFT ME UP WHEN I AM DOWN. TO START A FAMILY, AND GUIDE THAT FAMILY ALWAYS TOWARDS YOU FATHER. PLEASE GOD, LORD JESUS CHRIST BRING HER SO SOON. I CRY ALMOST EVERY NIGHT TO YOU LORD. PLEASE HEAR MY PRAYER FATHER GOD. LORD OF HEAVEN ON EARTH. CREATER OR ALLL THINGS. LORD AND MASTER. PLEASE FORGIVE ME OF MY SINS AND WRONG DOINGS AND EAKNESSES. BLESS ME FATHER WITH THE WOMEN TO LOVE, CHERISH, AND ADORE. PLEASE FATHER ANSWER MY PRAYER. PLEASE GOD I BEG OF YOU. IN THE NAME OF YOUR MOST PRECIOUS SON JESUS CHRIST, I PRAY.
Read More
---
by dd
Posted on Thu Jun 14, 2018
---
hi sean,
how old are you? did you find a wife? please let me know god bless you
Read More
---
by Elizabeth
Posted on Wed Nov 26, 2014
---
Two days ago I was praying and had a vision of Jesus offering me an apple, I go to take it and he throws it for me to "fetch" it (he tells me to fetch it and laughs! LOL), I go and get it but offer it back to him. Then today while praying I saw myself with him again and he offered me an apple but I just let him have it. I have many visions of Jesus while I pray. It makes me happy to see him with me. and he laughs a lot.
Read More
---
by angie
Posted on Thu Jun 14, 2018
---
i was an abused child; actually brutalized and tortured by my father my mother died in a fire when i was 7 years old

i clearly and beautifully remember jesus coming to me in my dreams he brought me to a beautiful place by the water, took my hand and we crossed the water together

jesus is always with us, and those beautiful dreams stayed and sustained me through those years

amen and amen
Read More
---
by carole
Posted on Mon Jun 11, 2018
---
i saw jesus sitting on a bench, looking at me what does this mean?
Read More
---
by Sylvia
Posted on Tue Feb 06, 2018
---
God sees beyond our faults and he meet our needs. I ask GOD to heal all of you, provide strong financial support, excellent health, emotional and social blessings to all of you. He lives and he is real. I don't know any of you, but we are all the same and he loves us. He saved me and he will save you. I ask of you just be still for a minute, forgive yourself, and let go of the past. Let go of past hurts that is related to past things, people, places, friends, jobs, trust in yourself and let God in. He knows your needs, talents, joys and your faith as small as the mustard seed. I love all of you and peace be still.
Read More
---
by claudia
Posted on Sat Jun 09, 2018
---
hi sylvia your words of encouragement is much needed in my times of troubles right now i have a seven year charge that is blocking me from getting a job and i am so desperately in need of work i ask the lord to forgive me of my past sins and for repentence thank you father god
Read More
---
by ashish
Posted on Sat Jun 09, 2018
---
nice dipi i am not krischan but i belive in god
Read More
---
by tina
Posted on Thu Jun 07, 2018
---
in my dream, i was someplace bright in my dream, it was almost like i was in the sky there was a blanket of white fluffy cloud, and what appeared to be the sky was a vivid sky blue it was peaceful i stood there for a minute and looked across and saw a man sitting in a big chair he had dark slightly wavy hair it was not long, but it was like a grown out regular haircut he had on a white robelike garment with a rope loosely cinched around the waist he said, "come here, tina" so i walked over to him when i got to him, he stood up and wrapped his arms around me and hugged me tight i felt so loved and so comforted and i felt so safe he then said, "everything is going to be alright" and he continued hugging me i felt the hug in my dream, and i still felt it when i woke up you know how when someone hugs you tight and steps away, and you still feel them? that's how i felt when i woke up
Read More
---
by ismael gonzalez
Posted on Sun Jul 12, 2009
---
muchas gracias jesus, en ti confio
Read More
---
by Pam
Posted on Mon Aug 07, 2017
---
I dreamed Satan was in room with me and all I felt was fear. I looked up and Jesus was there beside me. Of course Satan did flee. I felt such a peace when I woke up.
Read More
---
by detavious
Posted on Tue Jun 05, 2018
---
so this morning i was curious i pray to the lord and i asked him am i still close to you? and i begged them for a sign so i instantly fell asleep i remember me in a car with if i recall two girls i was talking about jesus a lot so much so they got annoyed with me they said get out the car so i did fast forward i remember crossing this bridge this little small white bridge,
👌 after this for some reason my soul locked on this man so i walk towards him we didn't say anything to each other we just had eye contact and i felt like crying but i didn't you no real men don't cry jk but for real i saw myself from his perspective it was unusual but i ain't paying no attention so he grabbed me and gave me a hug, i mean the biggest hug i ever had in my life i never felt that way before i was crying so bad but i know it was jesus, he answered my prayers he was telling me i am watching you i should have righteous things you are doing and i love you i was crying in my dream and in real life when i woke up jesus answered my prayers and i'm truly blessed i fear the lord cuz i respect him and i love him i wish not to hurt him i keep those commandments god bless you all hopefully you read this thank you🙏🙏
Read More
---
by danny
Posted on Sat Jun 02, 2018
---
thanks so much for your words
Read More
---
by rosy
Posted on Wed May 30, 2018
---
los díes mandamientos son la fuente principal de ética cristiana son la regla conducirnos
Read More
---
by greg
Posted on Wed Sep 27, 2017
---
---
we offer all types of loans at 3% any interested personal should email us at info.wire*****ans @ gm with the following details
Read More
---
by t
Posted on Wed May 30, 2018
---
what is wrong with you vultures
Read More
---
by a
Posted on Tue May 29, 2018
---
lord please help me find a jobiam going through a divorceand i have a one year old childplease help me
Read More
---
by valery
Posted on Mon May 28, 2018
---
que bonito es dios yo amo a dios y soy catolica
Read More
---
by patricia
Posted on Mon May 28, 2018
---
i am a well educated widow of retirement age my husband committed suicide and i am left homeless and without anything except my job training as an educator i am in great financial need and need a permanent solution to take care of myself i am a christian and have had many prayers answered but my prayers for a home and for restorations money and a permanent work assignment go unanswered is there anyone to help me in jesus' name
Read More
---
by freeeman
Posted on Sat May 26, 2018
---
the great holy spriet told me freeman if we do not accept our healing by the strips of jesus we caused him to take those strips in vain! think about it
Read More
---