Jesus Will Come - The Coming Of Our Lord Jesus Christ To Earth
This website is about the coming of our Lord Jesus Christ. Many people ask When Will Jesus Come back to earth for the rapture. The answer is very simple, no one know, not even the Son of God knows, But only God knows the exact time and date.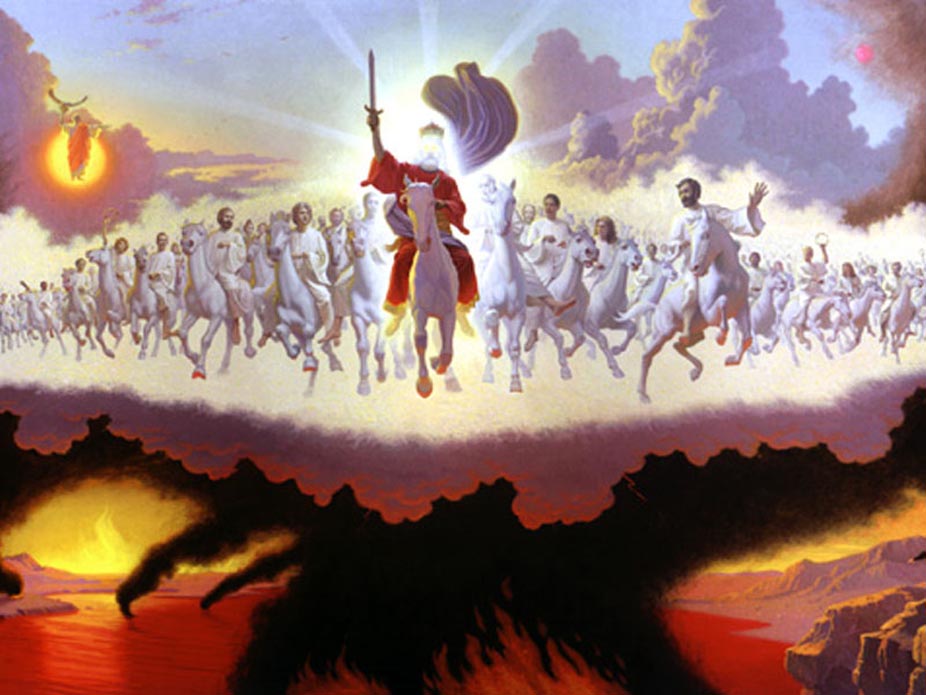 When Will Jesus Come?
Don't let anyone fool you. If someone tells you they know when Jesus Will Come, they are lying to you. Not even Jesus himself knows when he is coming back. The only one who knows the exact moment is God the father. Dont fall for false words. Many people may tell you they know, or they may say God talks to them and God has told them.. Don't believe, but you don't have to take my word for it. Look in your bible on Matthew 24:36 says: No one knows about that day or hour, not even the angels in heaven, nor the Son, but only the Father.
Why JesusWillCome.com?
You might be wondering, why create a website about the coming of Jesus? Well, the answer is simple. I believe the Lord called upon me to create this website to spread the word about the coming of Jesus. I wanted to give something back to Jesus. He has blessed me so much and I wanted to so something for him. But I am not a talented person. I am very shy. I admire those people who go out and preach the word to other strangers. I think it must take a lot of courage to do that. My mom once told me that God uses each individual according to their gifts, or their skills. I dont have those skills. My mother, she has the skill of just going to strangers and start a conversation. I would be proud of my mother when she would come home and tell me her experience when she would go out and when she come home, she would tell me how many people she had save. She called it 'Soul Winning' I admire her for that and i am very proud of her for that. I could not do that. But the Lord has blessed me with wisdom. Computer wisdom, that is. I started getting curious about how an internet web page works, soon I learn all the skills and bought the domain Jesuswillcome.com - originally, i wanted to get jesuswillcome.org, but it was already taken. So if you are wondering why jesuswillcome.com that is the reason. I hope you find good inspirational content on this website. if not, i would encorage you to leave your comments or perhaps write an article, you can write your own article in the 'Post New Topic' section above.
---
by jose
Posted on Thu Mar 23, 2017
---
SEñor Jesús te ruego con todo mi corazón y por intersección de santo Toribio Romo me permitas yegar com vien a mi destino y realizar mis sueños. En ti confió mi señor Jesús tu que vives y reinas por los siglos de los siglos AMEN
Read More
---
by mitchell
Posted on Tue Mar 21, 2017
---
dear Lord; make me fit to do your will. Nothing less than doing your will; not my will but yours!
please Lord.

Thank You
Read More
---
by zack hater
Posted on Mon Mar 29, 2010
---
never write again
Read More
---
by Ryan
Posted on Mon Mar 20, 2017
---
Jesus please save my marriage
Read More
---
by Iris
Posted on Thu Feb 09, 2017
---
I need the grace, strength, power, wisdom, and the provision of God! I NEED HEALING IN MY BODY!
Read More
---
by dambil
Posted on Sun Mar 19, 2017
---
Jesus u know that m all alone n I really need a good life partner to support me in my life n hardships . U also knw that I like a Girl n I wont betray her so y are u not helping me to get closer to her ?. Please answer me oh Lord I really love her...
Read More
---
by Ray
Posted on Thu Apr 28, 2016
---
Jesus
Please help me with court case please let it be positive out come and closure and please help my son Geoffrey with his rehabilitation and guide me to help my son and family in your name I pray Amen
Read More
---
by True
Posted on Wed Mar 15, 2017
---
I was in sinful ways with this person prior to joining church... I am confused of the double life this person has... sin with me, and all saintly amongst the church.... And I was saved but lost my salvation cause they said Im not saved because I had a smoke.... I am not aloud to talk to this person by the pastor... They know we sinned together... He gets all the support and prayer. Im reaching out for support and prayer I get none....... I repented... I was told keep digging... I was told I can't be saved unless I give up all sin, okay I can do that. But was also told I can never fall again. Or won't go to heaven..... Im hurt I have to work with this person they don't talk to me at all...... Am I in a cult... R Christians not forgiving.. Im being punished for my activities and involvement prior 2 this person asking me to come to church with them...
Read More
---
by Ashley
Posted on Fri Mar 11, 2016
---
I dreamt I was riding in a car on a winding black paved road. I saw my cousin(who is deceased). I yelled for the driver to stop. They wouldn't. My cousin waved her arm as if she was telling me to keep going. I was so sad. Then a huge flood came. I was drowning. I was terrified. Then I felt arms around me holding me like a baby and I hear a voice as clear as day telling me to breathe. And I thought the words I can't. I heard the voice tell me to trust him. And he said again, breathe. So I did. And I was pulled from the water. I saw His face. It was Jesus and I held him tight as He told me everything is going to be alright.His mouth never moved. I will never forget the emotions I felt while having this dream. I woke up and cried. I still get teary eyed and chills when I think about and talk about it. I will cherish it forever. He is Alive. He is coming back for us.
Read More
---
by Sierra
Posted on Wed Mar 08, 2017
---
Before tis dream happened, i had overdoses on some of my prescribed medicine,and then four months later, i was in the woods talking about heroin and satan, then that night i had the dream, i had just died and i was soo sad and upset i died from the overdose and i couldnt stop crying,i kept telling God tat i had family and they needed me, i told him i would never overdose again.then i was dropped from the clouds, this dream took place in the clouds.
Read More
---
by Dawn
Posted on Sun Mar 05, 2017
---
I need help financially and help with just keeping it all together bring my sons together joseph and Steven help me Lord jesus
Read More
---
by edw
Posted on Sat Apr 10, 2010
---
* felices los que tienen el espíritu del pobre, porque de ellos es el reino de los cielos.
* felices los que lloran, porque recibirán consuelo.
* felices los pacientes, porque recibirán la tierra en herencia.
* felices los que tienen hambre y sed de justicia, porque serán saciados.
* felices los compasivos, porque obtendrán misericordia.
* felices los de corazón limpio, porque verán a dios.
* felices los que trabajan por la paz, porque serán reconocidos como hijos de dios.
* felices los que son perseguidos por causa del bien, porque de ellos es el reino de los cielos.
* felices ustedes, cuando por causa mía los insulten, los persigan y les levanten toda clase de calumnias. alégrense y muéstrense contentos, porque
* será grande la recompensa que recibirán en el cielo. pues bien saben que así persiguieron a los profetas que vivieron antes de ustedes.

Read More
---
by scarlette
Posted on Mon Aug 29, 2011
---
i had a dream about jesus too. it was night and i was driving and my 7 yr old was in the front seat and my 3 yr old son was in the back seat. i saw something to my right and in the sky the clouds were orangish pink and there was a huge golden cross shining and i knew it was jesus. i stopped the car and started to tell my children i loved them and as i was saying it i could literally feel myself being lifted out of my body. but i asked to stay. my children went but he let me stay for the sake of my husband. then i remember walking and it looked like a fruit and veggie market at night but some people were running and screaming but myself and a few others kept walking towards what others were running from .... and i saw jesus he was wearing a royal blue robe with a golden rope around his waist and i remember falling at his feet and kissing them.
Read More
---
by Favour
Posted on Fri Mar 03, 2017
---
O Lord please forgive me I see myself doing what I said no to. Am a sinner I need the mercy of God in my life and His Unmerited Favour.
Read More
---
by Betty
Posted on Wed Mar 01, 2017
---
Ty. I need direction. It seems there is no where to turn
Read More
---
by Ron
Posted on Mon Feb 27, 2017
---
Thank you,For your words of hope,I do love the Lord our God!
Read More
---
by chris
Posted on Sun Feb 26, 2017
---
Jesus i am getting older and lost the love of my life.Please help me rekindle or
find a new partner for life. I get lonely at times and feel i am missing the joy of
a best friend and spouse.Please help me find true love very soon.Thank You
Jesus
Read More
---
by Airin
Posted on Sat Feb 25, 2017
---
I want job in Railway please give me father...Thank you Jesus Amen
Read More
---
by Wilson
Posted on Sun Jul 12, 2015
---
I am kind of like that Lewis guy who posted on here. I gave God my heart, soul, time and effort for many years. I prayed to him to find someone and still nothing after over 20 years. I actually quit church over it because I felt more depressed going there and seeing all the happy couples.I am not a bad looking guy either. Now it's too late for me to be a father and I will never get to experience that. This is why people leave Christianity...All these promises about how God loves you and Jesus saying "When Many Gather In My Name and Request Through Prayer They Shall Receive." Didn't work for me. I could care less anymore. Feel like I wasted my time serving the Lord and maybe should have taken another path. Sorry folks, that's just how I feel and I am being brutally honest.
Read More
---
by Single
Posted on Wed Feb 22, 2017
---
I understand you well. Ive been praying for a wife for 30 yrs but no answer. My life is unhappy and sucks but you think i can get god to give me a wife. Lots of promises from God or his people but no reality. Rain clouds with no rain on a dry and thirsty land is what God is to me. All promise but no substance behind his words. I have no confidence in god anymore so what do i do now. I dont want to be full of doubt but 30 yrs of no from god has left me with no faith . What does god expect. If he wants faith from us he should be faithful .
Read More
---
by Desperate...
Posted on Wed Feb 22, 2017
---
Please, heavenly father I need your help & guidance.. Life has been very tough for the past few years. I never want to give up.. I am lost & ask you to fill my heart and ease my burden.. Amen !!
Read More
---
by Frightened
Posted on Wed Jan 11, 2017
---
help please help please so scared
Read More
---
by Carolyn
Posted on Thu Nov 10, 2016
---
I don't just want to win for myself although I need money, too. But I need to help my four sisters who are desperately in need of money! I also want to help my Church because the funds they get are used to help others in our Church and /or our neighborhood. When I had money I bought a car for one of my sisters, and the other three sisters I bought houses for them. Now, I have no more money and I still need to help them. Trouble is, I'm not well and I'm out of money. This is the reason I would like to win this money. My sisters need help, my Church needs money and I need money. So, please Dear God help me to win. Please
Read More
---
by judyorr
Posted on Sat Sep 19, 2009
---
heavenly farther i close this day with thoughts of you all day long you have watched over me now i lay me down to sleep i pray to the lord jesus for a good nights sleep have youre angles watch over me in jesus name amen.
Read More
---
by IRENE
Posted on Mon Feb 13, 2017
---
I AM SO IN NEED OF THE LOVE OF JESUS

Read More
---