Jesus Will Come - The Coming Of Our Lord Jesus Christ To Earth
This website is about the coming of our Lord Jesus Christ. Many people ask When Will Jesus Come back to earth for the rapture. The answer is very simple, no one know, not even the Son of God knows, But only God knows the exact time and date.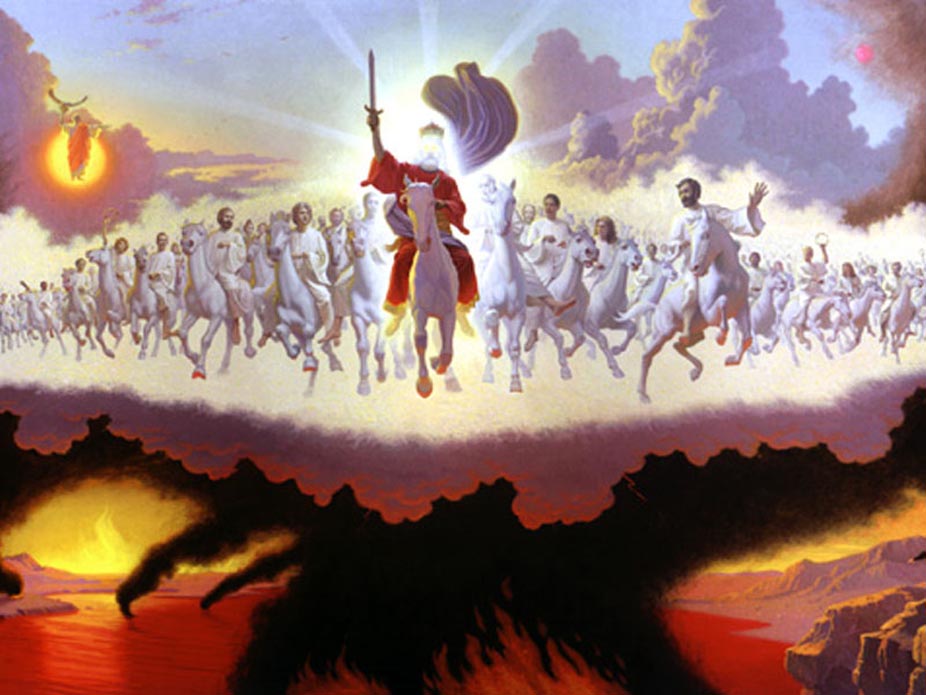 When Will Jesus Come?
Don't let anyone fool you. If someone tells you they know when Jesus Will Come, they are lying to you. Not even Jesus himself knows when he is coming back. The only one who knows the exact moment is God the father. Dont fall for false words. Many people may tell you they know, or they may say God talks to them and God has told them.. Don't believe, but you don't have to take my word for it. Look in your bible on Matthew 24:36 says: No one knows about that day or hour, not even the angels in heaven, nor the Son, but only the Father.
Why JesusWillCome.com?
You might be wondering, why create a website about the coming of Jesus? Well, the answer is simple. I believe the Lord called upon me to create this website to spread the word about the coming of Jesus. I wanted to give something back to Jesus. He has blessed me so much and I wanted to so something for him. But I am not a talented person. I am very shy. I admire those people who go out and preach the word to other strangers. I think it must take a lot of courage to do that. My mom once told me that God uses each individual according to their gifts, or their skills. I dont have those skills. My mother, she has the skill of just going to strangers and start a conversation. I would be proud of my mother when she would come home and tell me her experience when she would go out and when she come home, she would tell me how many people she had save. She called it 'Soul Winning' I admire her for that and i am very proud of her for that. I could not do that. But the Lord has blessed me with wisdom. Computer wisdom, that is. I started getting curious about how an internet web page works, soon I learn all the skills and bought the domain Jesuswillcome.com - originally, i wanted to get jesuswillcome.org, but it was already taken. So if you are wondering why jesuswillcome.com that is the reason. I hope you find good inspirational content on this website. if not, i would encorage you to leave your comments or perhaps write an article, you can write your own article in the 'Post New Topic' section above.
---
by JJ
Posted on Sun Dec 10, 2017
---
Dear God, Please give me a second chance at marriage. Please bring a compatible wife into my life. I'm not getting any younger, I want to enjoy her company while I'm still healthy. Have mercy on me and let me be the best husband. Thank you God!!!!!!!
Read More
---
by Bill
Posted on Sun Dec 10, 2017
---
Neeed of job, preferably in new career, past jobs contracting justice, military
Read More
---
by Walter
Posted on Thu Dec 07, 2017
---
I to have ask Jesus Christ in to me but He does not here me ether
Read More
---
by joe
Posted on Tue Dec 05, 2017
---
I am a very good person. Have Thee biggest heart God made
don't like being by myself. Have more love to give than all the headwaters in the Amazon.

Read More
---
by Walter
Posted on Tue Dec 05, 2017
---
I need prayer for Jusus to forgive my and give my arenul of the Holy Spirit ok.
Read More
---
by Heidy
Posted on Tue Dec 05, 2017
---
Yo bengo de mismo ayel y este país me encanta yo mequedo aki

Read More
---
by Yenifel
Posted on Tue Dec 05, 2017
---
Quiero que me enseñel hablar el idioma ingles
Read More
---
by mariaarchan
Posted on Tue Nov 22, 2016
---
Quiero sabre escribir dois en ingles
Read More
---
by william
Posted on Mon Dec 04, 2017
---
My health is failing I'm scared More test tomorrow I ask CHRIST to be with me and I accept what plan he has for me. ALL GLORY to my best friend and savior JESUS CHRIST
Read More
---
by Deshay
Posted on Sat Nov 11, 2017
---
My heart is heavy, because the man I love left me abruptly with no explanation, I may have said something to challenge him I wouldn't say anger because it was how I was feeling about our relationship, I believe in my heart that he cares but its hard for him to face me, but he wont respond at all, it hurt so bad right now, I believe God will heal me and Jesus would deliver me but I really need closure from him, I know only Jesus can give me peace. I've seen him work in my life , but this is really a stronghold for me, I really care for him and made hellish sacrifices but that was all in the name of love. Please just pray on my behalf that God will soon intervene and comfort because the anguish is unbelievable heartbreaking, But I carry on its just I find myself crying uncontrollably, Its been 3weeks and he haven't responded by any means. I know he needs deliverance as well from pass hurt by the church.
Thank You All My Bro. and Sis. In Christ Jesus
Love AMEN.

Read More
---
by wadell
Posted on Sat Dec 02, 2017
---
i love jesus with all my heart i wont him to come in my dreams or talk to me and tell me what he wont me to do i just wont to work for him so i can be a better person i love fishing and hunting being merried is hurting me and i tell god all the time that its not good for me i dont wont it nomore
Read More
---
by wadell
Posted on Sat Dec 02, 2017
---
i need jesus in my life am not happy i wont my kids to go church im not happy being married i wanna do nature things and do god bussines then i would be happy
Read More
---
by Vicki
Posted on Tue Nov 28, 2017
---
I just had my first dream of Jesus about a week ago. I had been struggling with a broken heart as well as other issues from the relationship and in my dream I was sleeping on my couch and Jesus was kneeling on the floor next to me soothing me by his neatness and he was stroking my hair and face-like he was calming me and ridding me of my sadness and anxiety. I did start the healing process of acceptance and picked myself up out of depression. It was a beautiful dream
Read More
---
by Wayne
Posted on Mon Aug 28, 2017
---
I screwed up my life so bad. I need Jesus. I don't know how to find him. I thought I had it all together; not even.
Read More
---
by Ann
Posted on Sun Nov 26, 2017
---
Jesus, please help Wayne this very moment
Read More
---
by Farshad
Posted on Sat Nov 25, 2017
---
Plz help me. I sleep on the st. And I am hungry. I need help. Call me. Three One Zero Six Nine Six Nine Zero Seven Two
Read More
---
by William
Posted on Sat Nov 25, 2017
---
Deshay...
I literally just wrote your name down on my prayer list and will be including you in my prayers on a regular basis...so hold on to your hat, cause I pray ALOT!!! 😁 Hehehe....you sound as though you are pretty well grounded in your walk with God and I get an overall sense that you will make it through all this just fine! 😊Always remember that our Father is sovereign and has been, and always will be in control...absolutely nothing happens unless He allows it, and there's a purpose for everything...He causes all things for good for those who love Him and are called according to His purpose...As you continue to grow wiser and stronger I would love to maybe hear some updates on how things are going an all? And thank you for sharing and reaching out for help and blessing us all with your faith and loving personality as you have so beautifully written your prayer requests and allowed us all an opportunity to share in one of our brothers and sisters in Christ's needs and concerns. God bless you young lady, I pray for God's favor to shine upon you so very bright as He strengthens and guides you through this and that you always find His grace is sufficient for you and us all! 😊

Read More
---
by Mark
Posted on Wed Nov 01, 2017
---
I need healing... please pray for me
Read More
---
by Chilly
Posted on Sat Nov 25, 2017
---
Mark,
I pray for you and also with you...I pray in agreement with you for healing, that it is in Gods will for your sins to be forgiven you and your body be made whole...that you receive healing from the crown of your head to the soles of your feet as we ask our Heavenly Father to bless you with health and healing in Jesus' majestic name...Jehovah Rapha, the Lord Who heals you...Father we ask, Mark and I along with many others who will read this and pray with us, ask that you will glorify your name in the healing of Marks body and soul as Jesus says to ask in His name and it will be done for you, and so we pray this in your name, lifting Mark up to you along with our praises and love for You Father, as Mark trusts and receives Your healing and promises...Praise Your Holy Name YHWH!!! In Jesus name...Amen!
Read More
---
by Jesussaves
Posted on Tue Nov 07, 2017
---
After reading your last entry here I wanted to reach out to you. I wonder how things are going with you You shared such support with your encouragement. So I wanted to offer you some . I hope you are doing well, and that you are still fighting to not sin that sin you spoke of or that hav eyou beat t it by now. Eigther way just remember Jesus overcome everything for us.We all have sins you are not alone in your journey. Its not easy living for the Los but if we stay in his word and pray, he makes our paths straight. God bless you.
Read More
---
by Marie
Posted on Fri Nov 24, 2017
---
HI , I have a phone interview this monday for a new job .. asking for prayers please . Thank u God bless u all
Read More
---
by Walter
Posted on Wed Nov 22, 2017
---
I need a renuwl of the Holy Spirit in my life but I can not get Jesus Christ to lisen to my prayers so pray this for me ok
Read More
---
by BARBARA
Posted on Wed Nov 22, 2017
---
HELP ME LORD I AM SO AFRAID
Read More
---
by True
Posted on Wed Mar 15, 2017
---
I was in sinful ways with this person prior to joining church... I am confused of the double life this person has... sin with me, and all saintly amongst the church.... And I was saved but lost my salvation cause they said Im not saved because I had a smoke.... I am not aloud to talk to this person by the pastor... They know we sinned together... He gets all the support and prayer. Im reaching out for support and prayer I get none....... I repented... I was told keep digging... I was told I can't be saved unless I give up all sin, okay I can do that. But was also told I can never fall again. Or won't go to heaven..... Im hurt I have to work with this person they don't talk to me at all...... Am I in a cult... R Christians not forgiving.. Im being punished for my activities and involvement prior 2 this person asking me to come to church with them...
Read More
---
by Wade
Posted on Tue Nov 21, 2017
---
You are in a cult
Read More
---